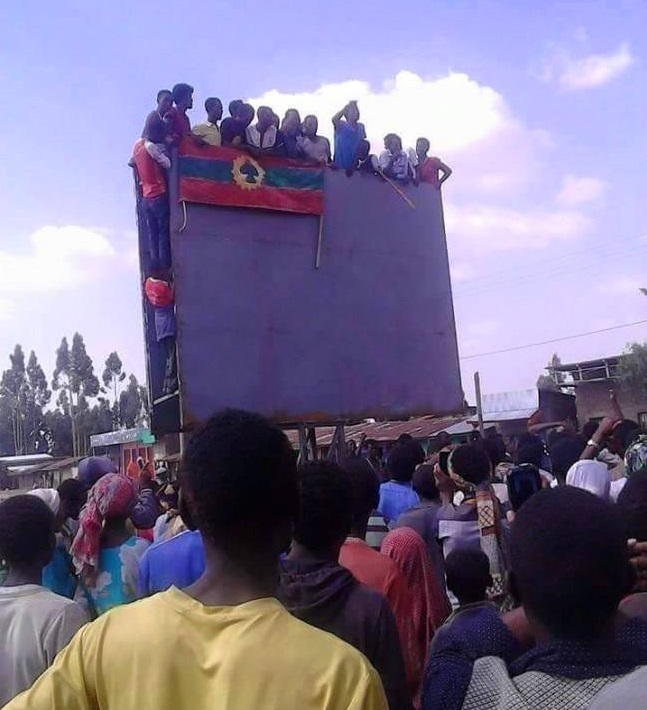 People in Ethiopia's Oromia state already have self-rule and protesters' demands are already in place, an Ethiopian official told IBTimes UK. Abiy Berhane, minister counsellor at the Ethiopian embassy in London, made the comment as activists said they are still on the streets of Oromia calling for self-rule, the release of political prisoners and the end of military presence in the region.
Protests in Oromia began in November 2015 against a government draft plan to expand the boundaries of the capital Addis Ababa. Demonstrators, mainly from the Oromo ethnic group, argued the so-called "Addis Ababa master plan" would lead to forced evictions of Oromo farmers from their lands and would undermine the survival of the Oromo culture and language.
Who are the Oromo people?

The Oromo people are Ethiopia's largest ethnic group and their population amounts to more than 25 million (around 35% of Ethiopia's total population).

Oromo people speak Afaan Oromoo, as well as Amharic, Tigrinya, Gurange and Omotic languages. They are mainly Christian and Muslim, while only 3% still follow the traditional religion based on the worshipping of the god, Waaq.

In 1973, Ethiopian Oromo created the Oromo Liberation Front (OLF), which stemmed from the discontent over a perceived marginalisation by the government and to fight the hegemony of the Amhara people, another large ethnic group in Ethiopia.

OLF – still active today – also calls for the self-determination of the Oromo people. It has been deemed as a terror organisation that carried out violent acts against people in Ethiopia, Somalia and Kenya. The group has always denied such allegations, claiming its mission is to terminate "a century of oppression" against the Oromos.
The government scrapped the master plan following increasing agitation which activists claimed led to the death of some 400 people, at least 200 according to a report by Human Rights Watch (HRW), released on 21 February.
The government denied the allegations of violence and claimed the death toll was much lower, but did not give a specific figure.
Berhane explained Ethiopian authorities conducted an assessment on the unrest and admitted they took slow steps in addressing people's legitimate grievances. "Had these demands been addressed quickly and effectively, dissident groups would not have been able to infiltrate peaceful protesters and instigate violence," he said.
"The government does not want to see any of its people die, even the death of one person is one is one too many. What the country needs first and foremost is peace. Inciting violence, creating division, coming up with horrific stories and posting those stories on social media does not help in any way."
Earlier in March, Prime Minster Hailemariam Desalegn apologised for the deaths and destruction for which he blamed "anti-peace forces" that infiltrated demonstrations.
Self-rule already in place
Berhane claimed that people are ruling themselves in Oromia, where the official language is Oromo, people have their own regional parliament and run their own budget. "Political problems in Oromia and indeed in any other part of Ethiopia have been for the most part resolved. If there are any that are not resolved, the Constitution provides the mechanism for resolving them so there is no need for violent conflicts," he said.
However, Oromo activists who spoke to IBTimes UK denied Oromo people have self-rule in the region, claiming that Oromia's ruling party, Oromo Peoples' Democratic Organization (OPDO), is an organisation of "ex-war captives" created by the Tigrayan People's Liberation Front (TPLF), a political party in Ethiopia's Tigray region.
Activists also denied violent people infiltrated protests, and alleged the government iscracking down on peaceful and unarmed demonstrators, including pregnant women and children. They also claimed the government declared martial law in Oromia, which they say is now divided into eight military divisions controlled by "ethnic Tigrean generals".
"It is because of the absence of self-rule that you see millions of farmers evicted and their land given to ruling party officials or foreign companies. The regime downplays the scale of questions raised as well as the scale of the lethal forces used," Habtamu Dugo, an exiled Oromo journalist and US-based professor, said.
"Oromo are not able to elect their leaders in a free and fair election and the ruling party serves the interests of few ruling elites from the Tigray region. Although Afan Oromo is recognized on paper as a regional official language, people are demanding it to be made into one of the federal languages, since it is the most widely spoken language in Ethiopia."
Dugo, also a member of the Board of Directors of the Oromo Studies Association, added that should alleged killings by security forces continue, Oromo people might start calling for secession, a right guaranteed by the Ethiopian constitution.
An Oromia-based activist who spoke to IBTimes UK on conditions of anoymity, denied the government of Oromia rules on its own budget. The source said: "While Oromia contributes 60% of Ethiopia's GDP, OPDO has to accept 70% of its recurrent and capital budget from the TPLF-dominated federal governement."
The source also alleged at least 40,000 Oromo people are currently imprisoned and many of them "had to suffer severe torture".
---
Read more at :-
http://www.ibtimes.co.uk/ethiopia-government-says-oromia-has-self-rule-activists-vow-continue-protests-1550831
Related:-
Unrest in Ethiopia: Grumbling and rumbling
Months of protests are rattling a fragile federation