Posted by OromianEconomist in Uncategorized.
Tags: Abiy Ahmed, Africa, Ethiopia, Nobel Peace Prize 2019, Oromia, PM Abiy Ahmed
add a comment
Dr. Abiy Ahmed Ali, the Prime Minister of Federal Republic of Ethiopia and head of the Oromo Democratic Party (ODP) that governs the state of Oromia, wins the 2019 Nobel Peace Prize.
Award recognises efforts for peace, in particular in resolving Eritrea border conflict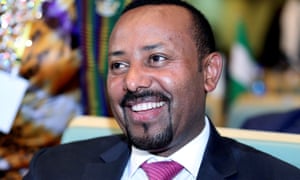 The prime minister of Ethiopia, Abiy Ahmed, who forged a peace deal with Eritrea last year, has won the 2019 Nobel peace prize.
The award recognised Abiy's "efforts to achieve peace and international cooperation, and in particular his decisive initiative to resolve the border conflict with neighbouring Eritrea", said Berit Reiss-Andersen, the Norwegian Nobel committee's chair.
One of Abiy's biggest achievementssince coming to power in April last year was the peace deal signed three months later, which ended a nearly 20-year military stalemate with Eritrea following their 1998-2000 border war.
Abiy has also pushed through reforms at home, dramatically changing the atmosphere in what was regarded as a repressive state. His public renunciation of past abuses drew a line between his administration and those of his predecessors, as did the appointment of former dissidents and large numbers of women to senior roles.
Abiy said: "I am so humbled and thrilled … thank you very much. It is a prize given to Africa, given to Ethiopia, and I can imagine how the rest of Africa's leaders will take it positively to work on the peace-building process in our continent."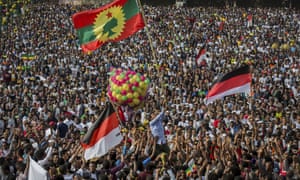 Other figures who were considered in the running for this year's prize included the 16-year-old Swedish climate activist Greta Thunberg, Angela Merkel, the German chancellor, and Hong Kong pro-democracy activists.
Ninety-nine Nobel peace prizes have been awarded since 1901, to individuals and 24 organisations. While the other Nobel prize laureates are announced in Stockholm, the peace prize is awarded in the Norwegian capital, Oslo.
Abiy, 43, a former military officer specialising in cyber intelligence, has forged a reputation as a daring leader prepared to take risks to tackle decades-old problems.Timeline
Abiy Ahmed's achievements
Show
The peace deal with Eritrea surprised and delighted tens of millions of people across east Africa. The conflict had cost both countries dearly in lives and scarce resources, and was a brake on development across much of the volatile region.
Eritrea, which has a population of about 4 million, gained independence from Ethiopia in 1993 after a 30-year guerrilla war.
The Nobel committee acknowledged that "peace does not arise from the actions of one party alone".
It said that when Abiy "reached out his hand, President Afwerki [of Eritrea] grasped it, and helped to formalise the peace process between the two countries".
More recently Abiy played a key role in brokering a political deal in neighbouring Sudan that halted a slide into violence after the fall of the veteran dictator Omar al-Bashir, while retaining many of the gains made by pro-democracy protesters.
António Guterres, the UN secretary general, said winds of hope were blowing across Africa.
"This milestone has opened up new opportunities for the region to enjoy security and stability, and Prime Minister Ahmed's leadership has set a wonderful example for others in and beyond Africa looking to overcome resistance from the past and put people first," Guterres said.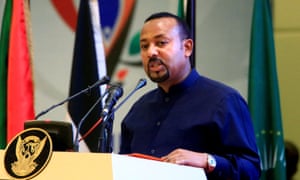 Abiy, who often relies on bold personal initiatives and charisma to drive change instead of working through government institutions, is the country's first leader from its largest ethnic community, the Oromo, who have long complained of economic, cultural and political marginalisation.
Domestic reforms have included lifting bans on political parties, releasing imprisoned journalists and sacking a number of previously untouchable officials, some of them accused of torture.Abiy also appointed women to half the ministerial posts in his cabinet.
In Addis Ababa, larged crowds have been welcoming home exiled dissidents. Residents who once feared speaking publicly about politics now talk of little else. Flags and symbols long banned by the ruling Ethiopian People's Revolutionary Democratic Front (EPRDF) fly across the city.
Other initiatives, such as the planting of millions of trees, have won further international support.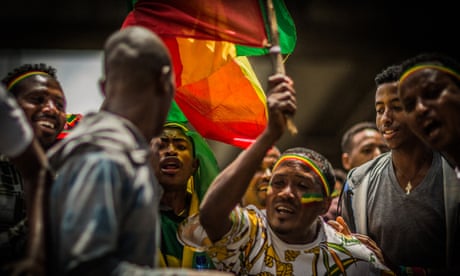 Read more
Born in western Ethiopia, Abiy joined the resistance against the regime of Mengistu Haile Mariam as a teenager before enlisting in the armed forces, reaching the rank of lieutenant colonel. He has a doctorate in peace and security studies.
After a stint running Ethiopia's cyber intelligence service, he entered politics eight years ago and rose rapidly up the ranks of the Oromo faction of the EPRDF, which has historically been at odds with the Tigrayans.
Analysts say Abiy's mixed Christian and Muslim background and his fluency in three of the country's main languages help him to bridge communal and sectarian divides.
Dino Mahtani, a deputy director of International Crisis Group's Africa programme, said: "Abiy's award is a reflection of the west's hope for transformational change in Ethiopia. But peace in Ethiopia is under threat by outbreaks of violence following Abiy's political liberalisation project that, despite all its good intentions, has also contributed to unleashing centrifugal political forces in the country."
In an interview with the Guardian shortly after Abiy survived an apparent assassination attempt in 2018, one of his personal acquaintances said the leader was "always looking ahead for the future". Former colleagues said shelves of books on religion, philosophy and science filled Abiy's office.
"He is physically active and very well organised … He did not have a secretary because he wanted his office to be accessible. His office door was literally never closed," one said.
Nobel Peace Prize 2019: Ethiopia PM Abiy Ahmed wins for role in ending 20-year war with Eritrea, The Independent
Posted by OromianEconomist in Uncategorized.
Tags: Hora Finfinnee, Hora Harsadii (Bishoftuu), Irreecha, Irreecha (Irreesa) Oromoo, Irreecha 2019, Oromo national holiday, Oromo Thanksgiving, Oromummaa
add a comment
Irreecha (Irreessa) Birraa Oromoo kan Bara 2019 (akka lakkoobsa Oromootti kan Bara 6413) akka gaariitti karooreffatamee, haala oo'aa fi bareedan Finfinnee (Hora Finfinnee, Hulluuqoo Kormaa) fi Bishooftuu, Hora Harsadiitti nagaan kabajamee jira. Kan Hora Finfinnee sababa Finfinneen dinaan qabamtee turteef waggaa 150f itti irreefachuun dhowwamee ture. Kunoo injifannoon barana itti irreeffatame. Irreecha Finfinnee fi Bishooftuutti namoota milyoona 10 oltu qooda itti fudhate. saboota hedduutu aadaa saanii muli'sun irratti argaman jiru. Jaalaa, hariiroo fi firummaa Oromoo walii qabanisi ifatti ibsaniiru.
The blessing and colorful Irreecha (Oromo Thanksgivings) event that started in mid August and continue to be celebrated in Birraa (September- October). Over 10 Million people attended Hora Finfinnee in the capital of Oromia on 5th October and Hora Harsadi (in historic Bishoftuu, Oromia) on 6th October 2019. Both events were celebrated beautifully, successfully and peacefully. The Irreecha of love, peace, reconciliation and unity in diversity brought together diverse cultures, people and nations together. Irreecha is the most important event (season) in Oromo people national and cultural calendar. #Irreecha2019
Here are some of live pictures, videos and reports refer to Irreecha Oromo Thanksgiving 2019 (6413 in Oromo Calendar) Celebrations.
Irreechi Hora Finfinneetti waggaa 150 booda kabajamaa jira
Irreecha 2019: 'Oromoon akka galaanaatti dambali'ee Hora lamaanitti nagaan Irreefatee xumure' BBC Afaan Oromoo
Shimallis qaamolee mikaa'ina Irreechi Finfinneetiif gumaachan galateeffate
Irreecha 2019: Taateewwan shan yaadataman keessaa
Ethiopia's Oromos mark thanksgiving festival in Addis Ababa for the first time in 150 years, QZ Africa
Ethiopia's Oromo Celebrate Festival in Addis Amid Tight Security, The New York Times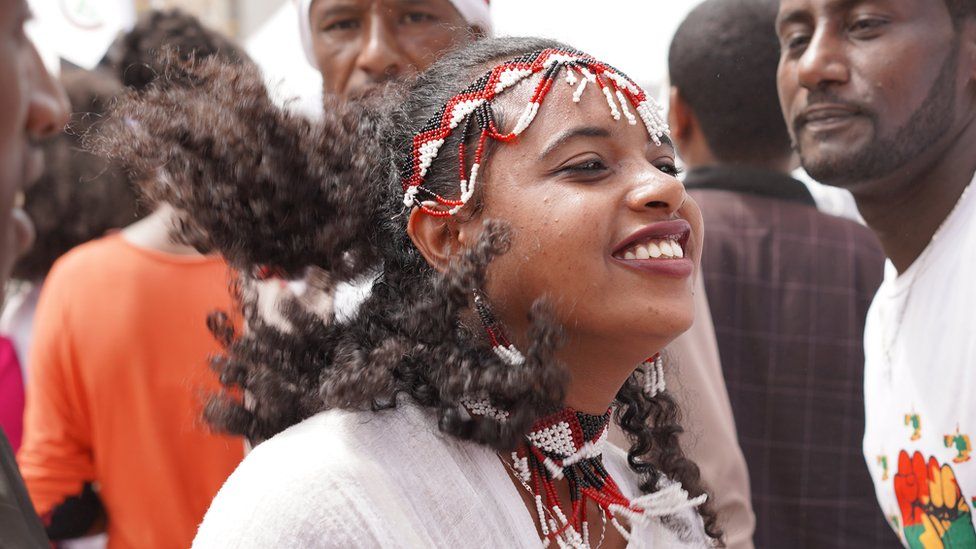 Huge crowds turned out in Ethiopia's capital, Addis Ababa, as it hosted for the first time in more than a century the annual Irreecha thanksgiving festival of the Oromo, the country's largest ethnic group.
In one Irreecha tradition, freshly cut grass and flowers are placed in water to thank God for the end of the rainy season and the beginning of spring.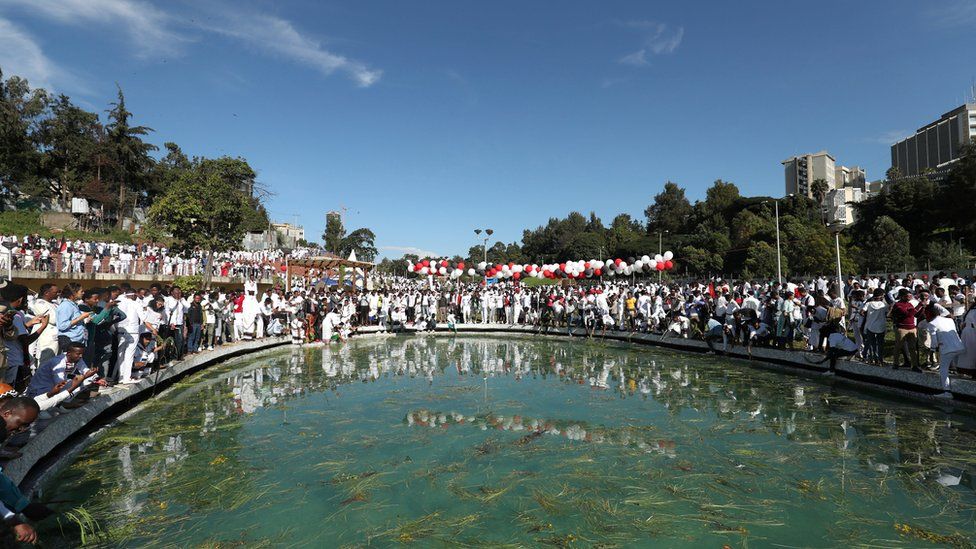 There was tight security as hundreds of thousands of people clogged the streets, including Addis Ababa's main public area, Meskel Square. They chanted, sang and waved flags and flowers.
City officials said they were expecting 10 million people to take part, though the final attendance figures are hard to estimate.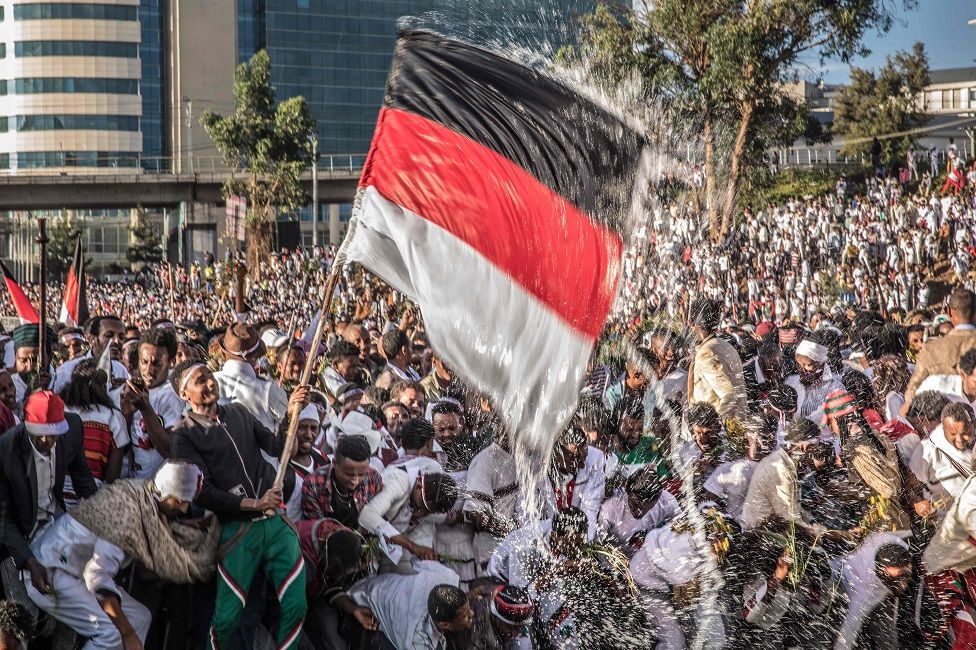 Previously, the annual festival had been celebrated in Bishoftu, 40km (25 miles) away, but similar gatherings have taken place in other parts of Oromia at different times of the year.
The move to the capital, which is surrounded by Oromia, is seen by some as a recognition of Oromo culture by the authorities. For years, Oromo people had complained of cultural and political marginalisation.
But some say it is an attempt by the ruling party to cultivate popular support ahead of next year's general election, reports the BBC's Kalkidan Yibeltal.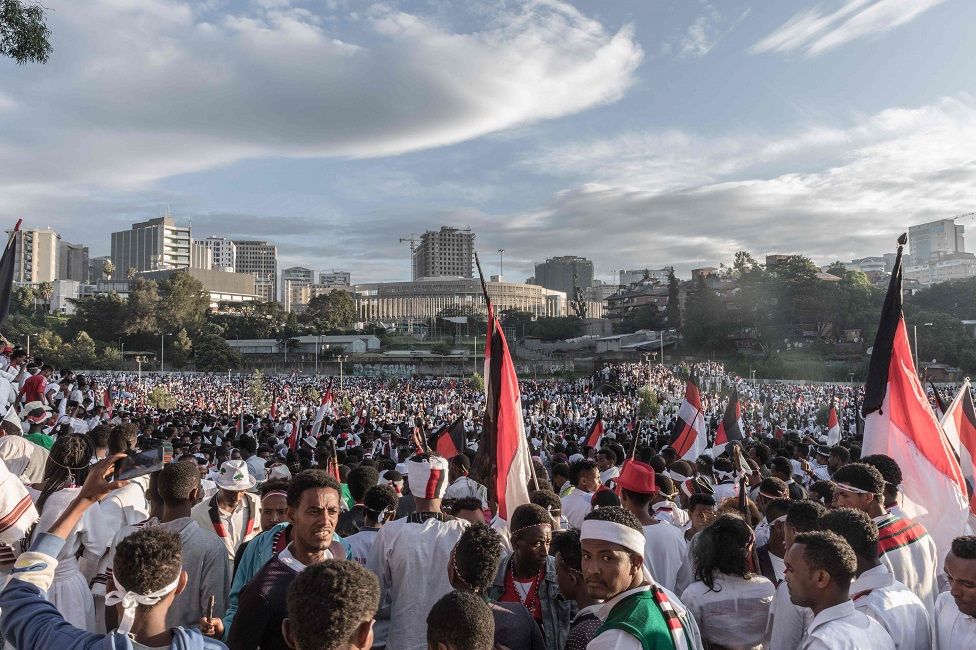 There are thought to be at least 40 million Oromos in Ethiopia, making up more than 30% of the population.
Within the Oromos there are many different traditions associated with where people come from, and Irreecha brings them all together.
The celebration is a chance for people to wear traditional costume.
This man, from the Shoa region, are wearing "Daabe", made from baboon skin.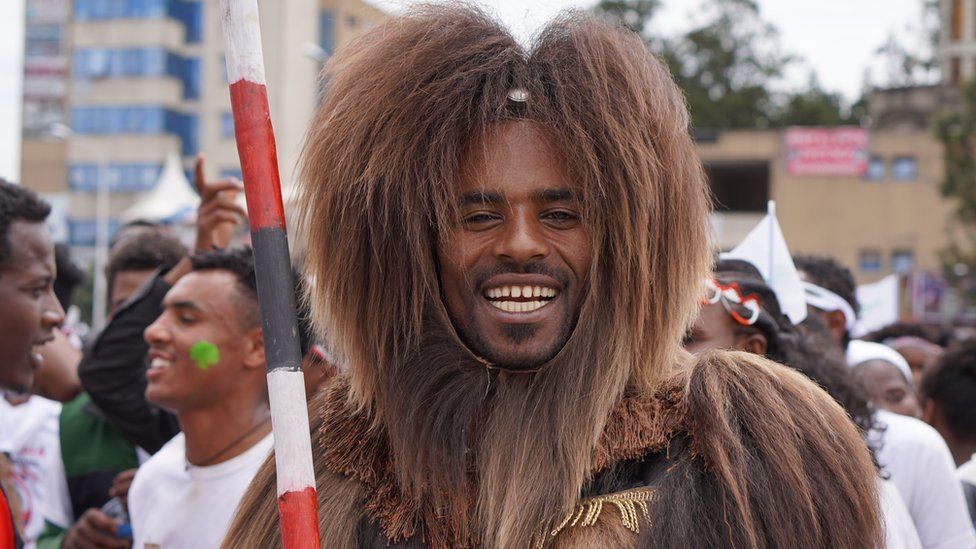 The beadwork, known as chelie, that these women are wearing on their foreheads is common to all Oromos, but their clothes are typical of people from the Borena region.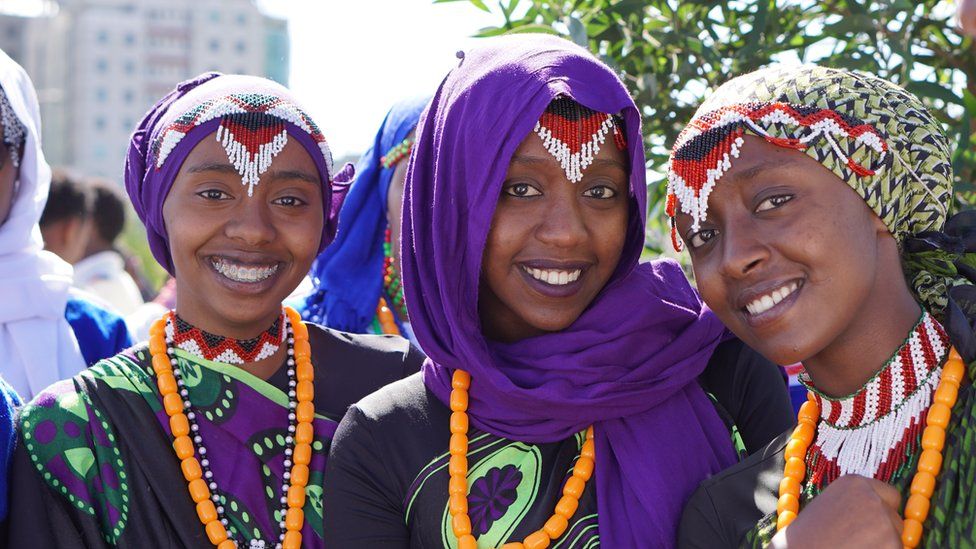 These men made the 400km journey from Bale, in southern Ethiopia, to join in the festivities. Their headscarves, known as ruufa, are worn at any major celebration.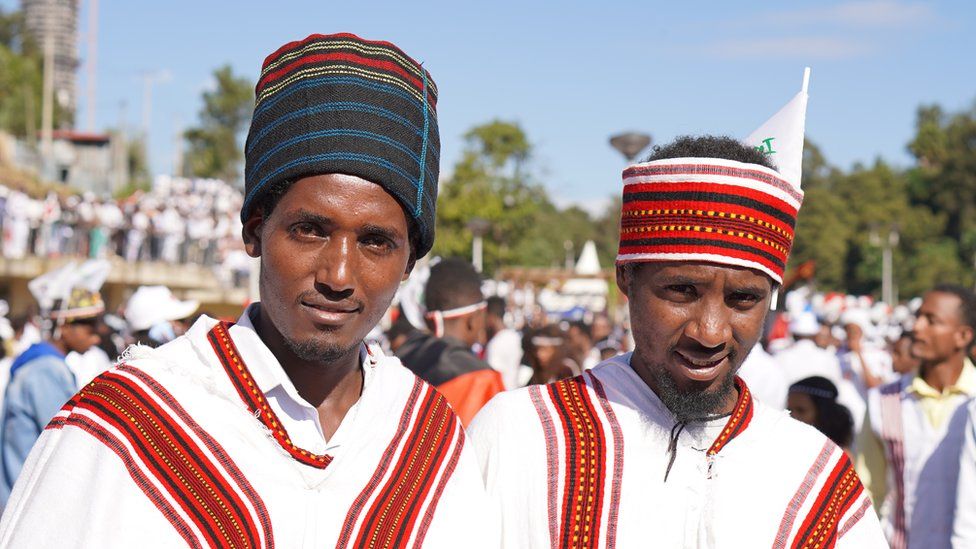 This woman from Hararghe, in the east of Ethiopia, came in the clothes typical of her region.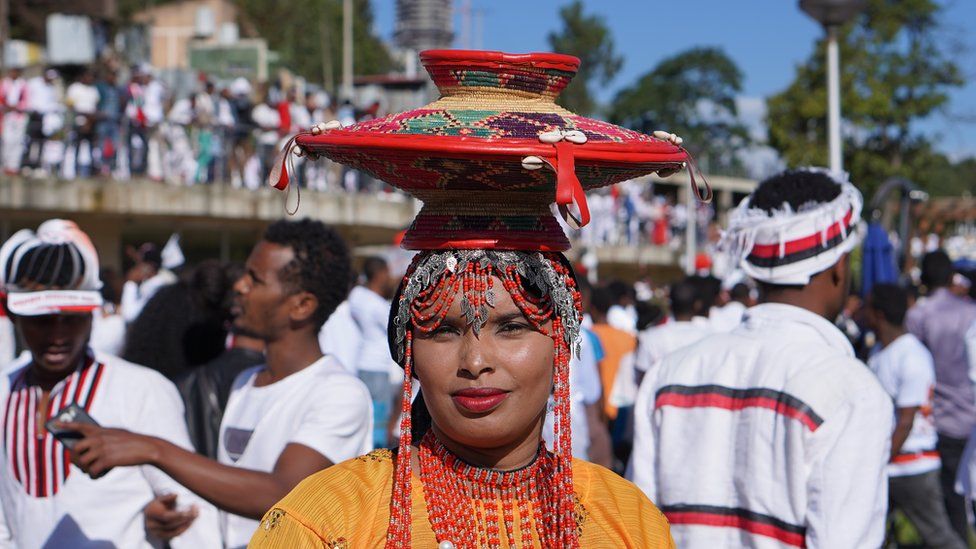 A community from Alaba, which is in southern Ethiopia outside of Oromia, also joined in.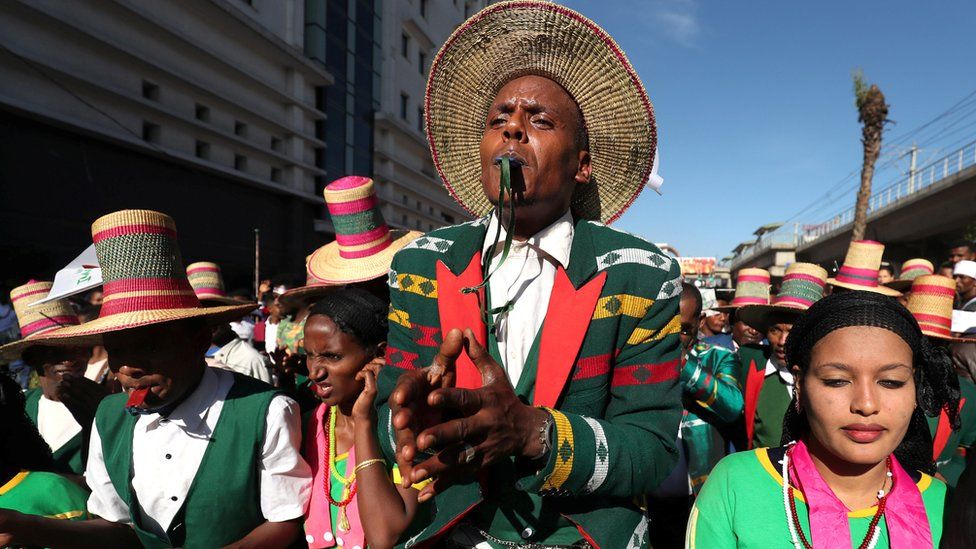 Ethiopia's Prime Minister Abiy Ahmed is himself from Oromia.
He has implemented radical reforms since coming to power last year following protests demanding more rights for ethnic groups.
But despite the move to the capital, the festival comes amid rising political tensions and ethnic rivalries that are dogging Mr Abiy's administration, our correspondent says.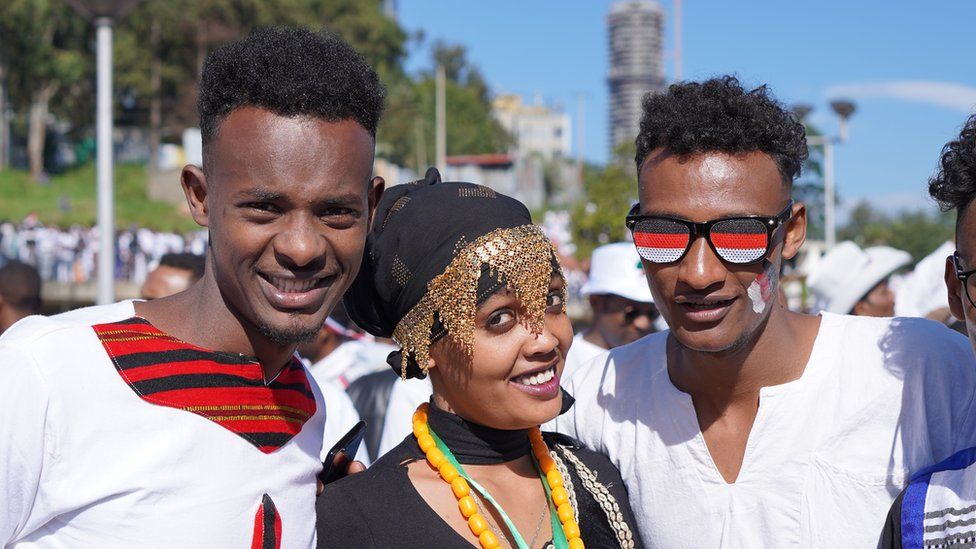 Photographs by Yadeta Berhanu (BBC), Amensisa Negera (BBC), Reuters and AFP.