Posted by OromianEconomist in Uncategorized.
Tags: HRW, Human rights violations, Independent investigation to Oromo genocide, Internet Censorship, Internet Freedom, Tyrannic Abiy Ahmed, Tyrannic Ethiopia
add a comment
Restore Internet, Phone Services in Oromia
(Nairobi, March) – The Ethiopian government should immediately lift the shutdown of internet and phone communications in the Oromia region. The two-month-long shutdown has prevented families from communicating, disrupted life-saving services, and contributed to an information blackout during government counterinsurgency operations in the area.
Since January 3, 2020, the authorities have disconnected mobile phone networks, landlines, and internet services in western Oromia's Kellem Wellega, West Wellega, and Horo Gudru Wellega zones. In East Wellega, residents reported that the internet and social media services were blocked, with text and cell service available only in major towns. The shutdown has been imposed in areas under federal military control and comes amid reports of government military operations against the armed wing of the once-banned Oromo Liberation Front (OLF). The media have credibly reported human rights abuses, including accounts of killings and mass detentions by government forces.
"The Ethiopian government's blanket shutdown of communications in Oromia is taking a disproportionate toll on the population and should be lifted immediately," said Laetitia Bader, Horn of Africa director at Human Rights Watch. "The restrictions affect essential services, reporting on critical events, and human rights investigations, and could risk making an already bad humanitarian situation even worse."
Under Prime Minister Abiy Ahmed's administration, communication blackouts without government justifications has become routine during social and political unrest, Human Rights Watch said.
A ruling party regional spokesman told the media in January that the communications shutdown had "no relationship" to the military operations but then said that it had contributed to the operation's success. The federal government offered no explanation for the shutdown until February 3, when Abiy told parliament that restrictions were in place in western Oromia for "security reasons."
International human rights law protects the right of people to freely seek, receive, and provide information and ideas through all media, including the internet. Security-related restrictions must be law-based and a necessary and proportionate response to a specific security concern. A lack of government transparency regarding communication shutdowns and their length invites abuse, Human Rights Watch said.
Four humanitarian agencies operating in the affected zones told Human Rights Watch that their activities were considerably hampered because they could not get critical information on the humanitarian and security situation. One aid worker said that health care services were also affected, with doctors and ambulances unable to communicate with patients.
The communications blackout was also affecting people outside these areas who are desperate for news of their loved ones. One Addis Ababa resident told Human Rights Watch: "Prior to the blackout, I was able to communicate with my mom almost every day. She lives alone. Now that internet and phone services are blocked, I worry very much."
One university lecturer described the effects of the shutdown on his students: "PhD students are worried about the how this will impact their final dissertations and tests. They don't have access to the online materials and the library doesn't have hard copies of the research or the books they need."
Students whose families have been affected by the communications shutdown and the military operations have held sporadic protests on some university campuses. On January 10, at Bule Hora University, security forces fired live ammunition at protesting students. Three witnesses to the crackdown, including one who went to the hospital after the incident, said that one student had been shot dead and at least a dozen injured. "Many students at Bule Hora are from [the Wellega zones] and were not able to contact their families," one witness said. "Some students were hit or beaten after confrontations with security forces."
In 2019, Ethiopia shut down the internet eight times during public protests and unnecessarily around national exams. Following the June 22 assassinations of five high-level government officials, which the government linked to an alleged failed coup attempt in the Amhara region, the government imposed an internet blackout across the country. The internet was only completely restored on July 2. At the time of the shutdown, the government gave no explanation or indication of when the service would be restored.
In August, Abiy told the media that he would switch off the internet "forever" if deadly unrest prompted by online incitement continued, asserting that the internet was "neither water nor air," and thus not an essential right.
In January, the Ethiopian government introduced a hate speech and disinformation law that could have a chilling effect on free expression and access to information online. Overbroad and vague language in the law may facilitate misuse by authorities who may use the law to justify blanket internet and network shutdowns.
Communications shutdowns violate multiple rights, Human Rights Watch said. In their 2015 Joint Declaration on Freedom of Expression and Responses to Conflict Situations,United Nations experts and rapporteurs stated that even in times of conflict, the use of communication "kill switches" (i.e., shutting down entire parts of communications systems) can never be justified under human rights law.
During a visit to Ethiopia in December, the United Nations special rapporteur on freedom of opinion and expression, David Kaye, expressed his concerns that the Ethiopian government's use of internet shutdowns occurred "without constraint under law or policy." In a 2017 report, Kaye wrote that network shutdowns fail to meet the standard of necessity and that governments need to demonstrate that any shutdown would not only be necessary, but would achieve its stated purpose since shutdowns often have the opposite effect. "It has been found that maintaining network connectivity may mitigate public safety concerns and help restore public order," he stated.
Instead of indefinite, blanket shutdowns and repressing peaceful dissent, Ethiopian authorities should use the media to provide transparent information that can discourage violence and direct security forces to act according to international human rights standards, Human Rights Watch said.
"The lack of transparency and failure to explain these shutdowns only furthers the perception that they are meant to suppress public criticism of the government," Bader said. "Amid ongoing unrest and ahead of critical national elections, the government should be seeking to maintain internet and phone communications to ease public safety concerns, not increase them."
Read Related article: Oromia's Ambo city: 'From freedom to repression under Abiy Ahmed'
Posted by OromianEconomist in Uncategorized.
Tags: Abiy Ahmed, Ambo, Amboo, Ethiopia's colonizing structure and development problems in Oromia and Omo Valley, Genocide, Human rights violations, Oromia, repression
1 comment so far
Ethiopia's Ambo city: 'From freedom to repression under Abiy Ahmed'
By Bekele Atoma, BBC Afaan Oromoo, 12 March 2020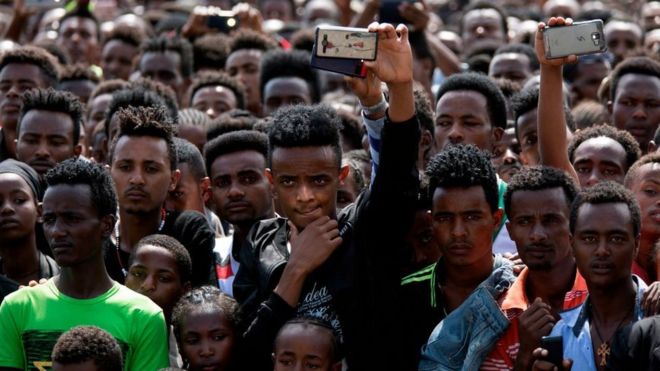 Under Ethiopian Prime Minister and Nobel Peace Prize winner Abiy Ahmed, the city of Ambo has turned from being a symbol of freedom into a symbol of repression, as the security forces try to curb the growth of ethnically inspired rebel and opposition groups that threaten his "coming together" vision.
Ambo, which has a large student population because of its university, was at the centre of mass protests that saw Mr Abiy rise to power in April 2018 with a promise to end decades of authoritarian rule in a nation with more than 100 million people belonging to at least 80 ethnic groups.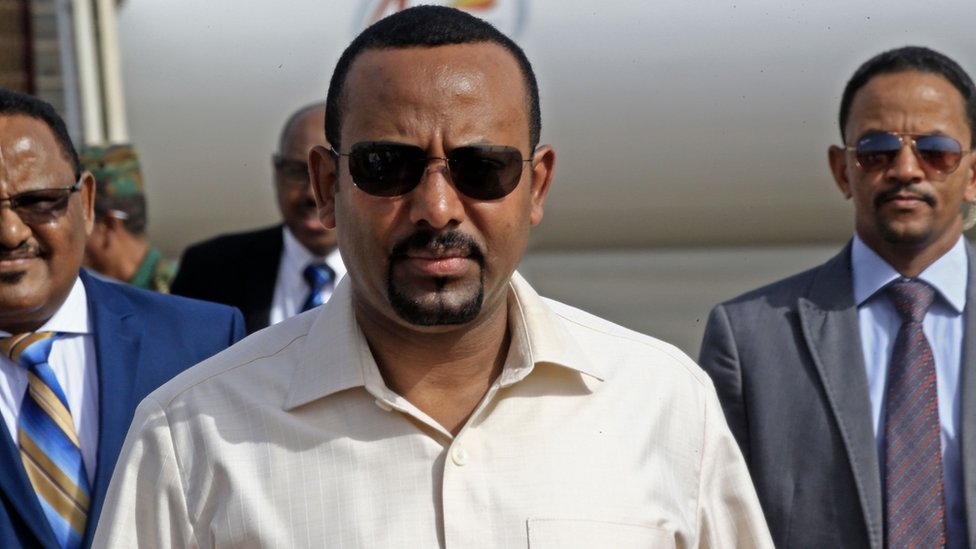 Getty ImagesAmbo is where we are going to build the statue of our liberty, our New York"Abiy Ahmed
Ethiopia's prime minister
Most of Ambo's residents are Oromos – and the protests were largely driven by anger that despite being Ethiopia's largest ethnic group, they were marginalised from political and economic power, with no Oromo ever serving as prime minister.
Acknowledging Ambo's role in bringing about change during a visit to the city within days of becoming the first Oromo to hold the prime minister's post, Mr Abiy said: "Ambo is where we are going to build the statue of our liberty, our New York."
At a fund-raising event in February 2019, the prime minister sold his watch for 5m birr (about $155,000, £120,000) to kick-start development in the city.
It was a further indication of the huge political significance he attached to Ambo, traditionally regarded as a stronghold of the Oromo Liberation Front (OLF), a former rebel group which laid down arms following peace talks with Mr Abiy.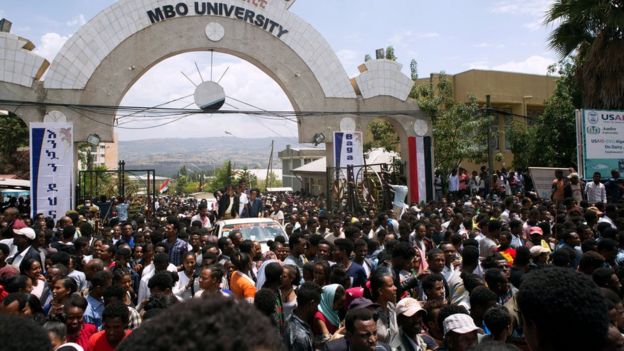 But a year later, there are few signs of development in Ambo, which is about 100km (60 miles) west of the capital Addis Ababa. Instead, residents are once again complaining of a return of police brutality, with young men being randomly beaten up or detained as they go about their daily lives.
'I was lucky'
I witnessed some of this during a visit to Ambo.
In one instance about six policemen forced two young men to kneel in front of pedestrians, before kicking them and hitting them with sticks.
In another instance, two young men were forcibly taken to a police station. Their elbows were tied behind their backs. One of them pleaded, in vain, with the officers to untie him.
No-one dared to intervene for fear that the police would assault them too.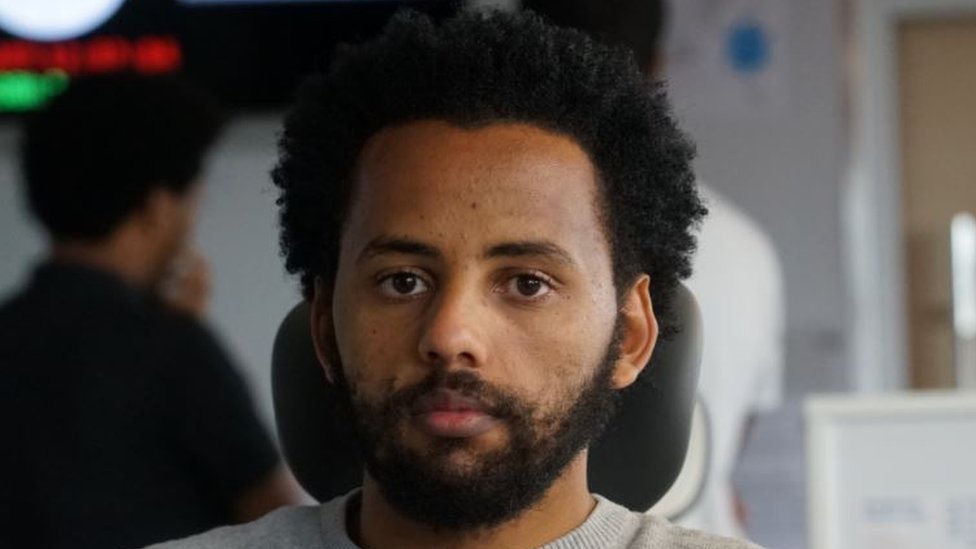 BBCI saw policemen walk around with scissors, giving haircuts to young men perceived to have long hair or afros"Bekele Atoma
BBC journalist
The policemen were from the regional force – and their numbers were swelled last Sunday when hundreds more graduated, raising fears that the crackdown will intensify ahead of the general election slated for August. That is the first time that Mr Abiy will face the voters since the ruling coalition chose him as prime minister to order to quell the nationwide protests.
I also saw policemen walking around Ambo with scissors, giving haircuts on the spot to young men whom they perceive to have long hair or afros.
They considered my hair to be an afro but I was lucky – they let me off with a warning to chop it off myself, which I did not do as I was going to leave Ambo in two days' time.
'I was unable to access the internet'
Police just assume that men with such looks are troublemakers and supporters of rebel leader Kumsa Diriba, who they see as a major threat to western Oromia's stability and Mr Abiy's vision of forcing a new sense of national unity, known as "coming together" .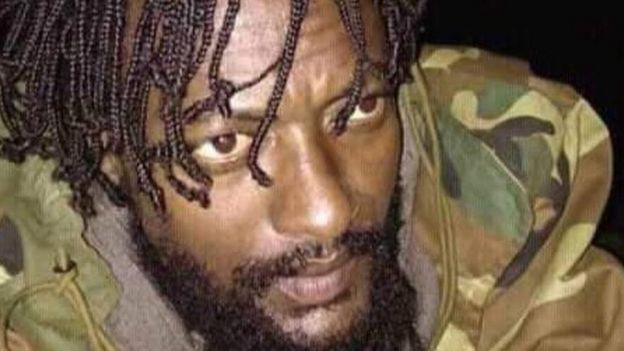 Having spurned Mr Abiy's peace overtures in 2018, Mr Kumsa, who is also known as Jaal Maro, is continuing to push for the "liberation" of Oromia from his forest hideout in the remote west.
He split from the OLF, the biggest Oromo rebel group, after it decided to turn into a political party, taking with him an unspecified number of fighters under his command.
The government suspects that Mr Kumsa's rebels have infiltrated Ambo, and were responsible for the bomb blast at a pro-Abiy rally held last month to show that the prime minister still commands significant support in the city.
The rebels, via their supporters and anonymous accounts, have also been slowly gaining a profile on social media in an attempt to raise discontent against the government, especially through the circulation of the names of victims of alleged brutality by the security forces.
The government's attempt to keep a lid on dissent has led to frequent internet shutdowns in much of western Oromia since January, and in some areas people cannot even make or receive phone calls. This is despite the fact that Mr Abiy has promised to liberalise the telecom sector and end the monopoly of state-owned Ethio Telecom.

Read more about Ethiopia:

In an interview with BBC Afaan Oromoo, the deputy chief of staff of Ethiopia's Defence Force, Gen Berhanu Jula, hinted that the shutdowns were linked to military operations to dismantle camps under Mr Kumsa's control, while a senior official of Mr Abiy's newly formed Prosperity Party (PP), Taye Dendea, denied that innocent people were victims of the security force operation.
"The government has no reason to target civilians, we care about our people more than anyone else," Mr Taye told BBC Afaan Oromoo.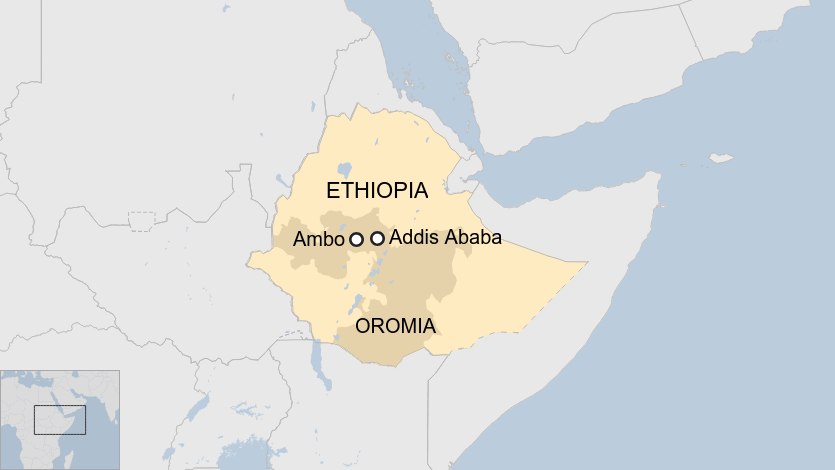 In Ambo, I was unable to access the internet over my mobile phone throughout my three-week stay. On the two occasions I went to an internet cafe, it had poor broadband connection and I had to wait for a long time before I could check my emails and social media accounts.
Residents suspect that apart from government concerns about the rebels, the shutdowns are intended to limit political campaigning and starve young people of news ahead of the general election.
Residents point out that Jawar Mohammed – who is probably the most prominent and controversial Ethiopian social media activist – is now also making life difficult for the prime minister.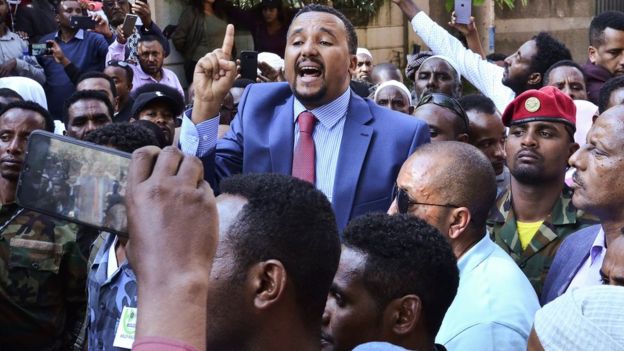 When exiled in the US, Mr Jawar used Facebook effectively to get Oromos on to the streets to rise against the former government.
Having returned to Ethiopia after Mr Abiy took power, he briefly became a supporter of the prime minister but is now a fierce opponent.
Nobel laureate booed
Mr Jawar put out a video on Facebook soon after Mr Abiy was awarded the Nobel Peace Prize in October, accusing the government of trying to remove his guards from his home in Addis Ababa as part of a ploy to orchestrate an attack on him.
Despite government denials of any such plan, Mr Jawar's supporters staged protests against Mr Abiy in parts of Oromia – in one instance, burning copies of the prime minister's newly published book, which outlines his "coming together" vision.
When Mr Abiy subsequently visited Ambo for a meeting with selected guests in a hotel, pro-Jawar youths staged a protest and booed the prime minister, who had been awarded the Nobel prize for his "decisive initiative" to end the border conflict with Eritrea, and for the "important reforms" he had initiated in Ethiopia with a pledge to "strengthen democracy".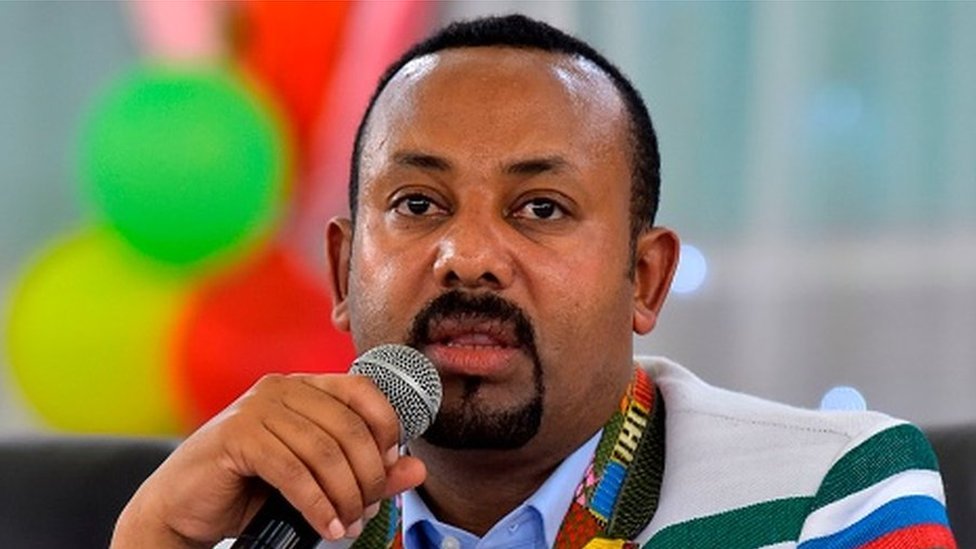 Getty ImagesKey facts: Abiy Ahmed
Bornto a Muslim father and a Christian mother on 15 August 1976
Joinedthe armed struggle against the Marxist Derg regime in 1990
Servedas a UN peacekeeper in Rwanda in 1995
Enteredpolitics in 2010
Becameprime minister in 2018
Wonthe Nobel Peace Prize in 2019
Source: BBC
Mr Jawar has joined the Oromo Federalist Congress (OFC), which has formed an alliance with the OLF and the Oromo National Party (ONP) to contest the election on what is expected to be a strong ethno-nationalist ticket.
In Oromia, it is likely to pose the biggest electoral challenge to Mr Abiy's PP, which was launched in December after a merger of eight of the nine regional parties which make up Ethiopia's ruling coalition.
Mr Abiy hopes that the PP will foster national unity and keep ethnic nationalism in check.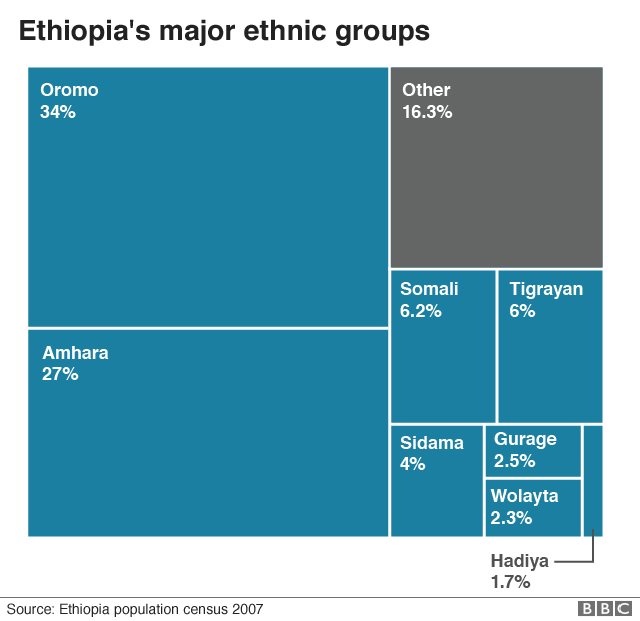 But he has taken a huge risk as the mass protests that propelled him to power were not just about political freedom – but also about the right of each group to express their ethnic identities more freely and to have greater autonomy for their regions.
So, as far as ethno-nationalists in Ambo and elsewhere in Oromia are concerned, Mr Abiy has sold out.
Worrying for the Nobel laureate, Defence Minister Lemma Megersa, a fellow Oromo with political clout, also expressed doubts about the PP's formation in November, though party officials say he and Mr Abiy have been ironing out their differences since then.
"The merger is not right and timely, as we are in transition, we are on borrowed time. Dissolving the regional party to which the public entrusted their demands is betraying them," Mr Lemma said at the time.
For Mr Abiy's supporters, he offers the best hope of getting Ethiopia's myriad ethnic groups to work together, and avoid the country's disintegration.
They are confident that he will demonstrate his popularity by leading the PP to victory in the election, though its legitimacy is bound to be questioned if the crackdown in Ambo continues.
You may also want to watch: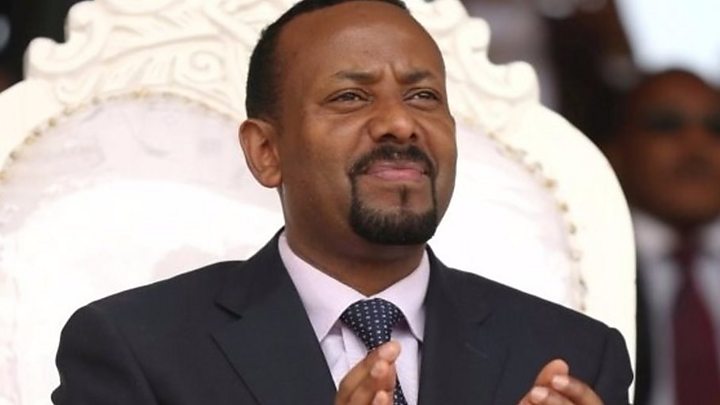 Related article from Oromia Economist sources:
New York Times: With Many Dents to Its Image, Nobel Peace Prize Is Hit With a Few More
Myanmar's onetime champion of democracy and Ethiopia's prime minister join a roster of figures who, one way or another, have given the Nobel Peace Prize a contentious image.
The Reform, the Philosopher King, and the Oromo Struggle
Posted by OromianEconomist in Uncategorized.
Tags: Abiy A hmed, Aung San Suu Kyi, Human rights violations, Nobel Peace Prize
add a comment
By Rick Gladstone, The New York Times, Dec. 11, 2019
Myanmar's onetime champion of democracy and Ethiopia's prime minister join a roster of figures who, one way or another, have given the Nobel Peace Prize a contentious image.
The Nobel Peace Prize has long been contentious, beginning with its origins in the will of Alfred Nobel, the 19th-century inventor of dynamite. But it is extraordinary that two winners are almost simultaneously battling accusations of behavior that is widely regarded as antithetical to the spirit and purpose of the award, first given in 1901.
On Wednesday, Daw Aung San Suu Kyi, the Myanmar leader who won the prize in 1991, appeared before the International Court of Justice and denied accusations that her government had committed genocide against the Rohingya minority. Her defense of Myanmar at the court was a jarring contrast to her onetime identity as an intrepid champion of human rights and democracy.
And on Tuesday, the 2019 winner, Prime Minister Abiy Ahmed of Ethiopia, facing accusations of a heavy-handed crackdown on political protests, skipped a news conference after his acceptance speech.
In some years, critics have questioned the worthiness of winners without marquee accomplishments — like the 2012 award to the European Union, for example, or the 2009 award to President Barack Obama, just months into his first term.
In other instances — perhaps most famously the 1973 award to Henry A. Kissinger and his North Vietnamese counterpart, Le Duc Tho, as the Vietnam War was still raging — the track records of winners have been ridiculed. (The singer Tom Lehrer famously said that the choice of Mr. Kissinger had rendered political satire obsolete.)
In the case of Ms. Aung San Suu Kyi, some critics have suggested that the criteria for selecting winners should be reassessed — including the possibility that the honor could be rescinded. Such questions are inherent to the prize regardless who is chosen, said Dr. Richard B. Gunderman, a professor at Indiana University who has written about the prize's history.
"The awarding of the Nobel Peace Prize has always been fraught with peril, subject to the current drift of public opinion and political and nationalistic motives and prejudices," Dr. Gunderman said.
"Like all human judgments, the Nobel committee's decisions are prone to error," he said. "It should do the best it can and then live with the consequences."
Here are some other notably contentious Nobel Peace Prize nominees and winners:
Hitler and Stalin
Adolf Hitler was nominated in 1939 by a member of Sweden's Parliament, E.G.C. Brandt, who apparently meant it as a satire against the leader of Nazi Germany, and never intended the choice to be seriously considered. But the nomination created such outrage that it was quickly withdrawn.
Joseph Stalin, Hitler's nemesis and the leader of the Soviet Communist Party, was nominated twice — in 1945 and 1948 — for his efforts to end World War II. Despite Stalin's murderous purges and pogroms, those nominations were taken in earnest.
Cordell Hull
The American statesmen Cordell Hull won in 1945 for his role in establishing the United Nations. Six years earlier, as President Franklin D. Roosevelt's secretary of state, he took steps that led Roosevelt to deny permission for 950 Jewish refugees aboard the liner St. Louis, fleeing Nazi persecution, to seek asylum in the United States.
Many of the passengers on the trip, known as the Voyage of the Damned, later died in the Holocaust.
Yasir Arafat
The chairman of the Palestine Liberation Organization shared the 1994 prize with the Israeli leaders Yitzhak Rabin and Shimon Peres for the Oslo Accords, still widely regarded as the basis for a peace process. But many critics assailed the choice of Mr. Arafat because of his role in acts of terrorism against Israelis.
Henry Kissinger and Le Duc Tho
The 1973 prize was awarded to Secretary of State Henry A. Kissinger and the North Vietnam statesman Le Duc Tho for having negotiated a cease-fire in the Vietnam War.
Many critics of the war — which would not be over for two more years — ridiculed the choice of Mr. Kissinger, and his Vietnamese counterpart refused to accept the award on grounds that the United States had violated the cease-fire.
An earlier version of this article referred incorrectly to Daw Aung San Suu Kyi's Nobel Peace Prize. She received it in 1991, not 1994.In Collecting Nobel Prize, Ethiopia's Leader Plans to Sidestep MediaAung San Suu Kyi Defends Myanmar Against Rohingya Genocide AccusationsSurprise Nobel for Obama Stirs Praise and Doubts