Oromia: Farm land grab: Game over for Flora EcoPower September 28, 2017
Posted by OromianEconomist in Land and Water Grabs in Oromia, Land Grabs in Africa, Land Grabs in Oromia, Uncategorized.
Tags: Africa, Ethiopia, land grab in Africa, Land grabbing, Land grabs in Oormia, Oromia
trackback
Africa Intelligence | 22 September 2017 [
FR
], INDIAN OCEAN NEWSLETTER ISSUE 1458
---
One final straw for the German company which owns 70,000 ha of land in Oromia has put a definitive end to its Ethiopian adventure.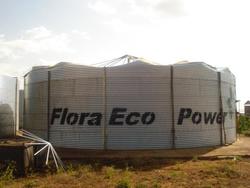 According to information obtained by the Indian Ocean Newsletter, the oil production and biofuel refining company Flora EcoPower Ethiopia, a subsidiary of the German group Acazis AG, has been ravaged by the fighting between Oromos and Somalis (ION 1457). Despite statements of reassurance from Prime Minister Hailemariam Desalegn, the conflict between the two communities is intensifying with each passing day. Already affected by the anti-government demonstrations which have broken out in Oromia National Regional State (ONRS), foreign business operators, like the Saudi-Ethiopian magnate Mohammed Hussein al-Amoudi (ION 1421), are now having to deal with ethnic clashes too.
Ethiopia allocated 70,000 ha of land to Flora EcoPower in the region of West Hararghe, which straddles the districts of Daro Lube and Boke, to enable it to produce castor, groundnut and eucalyptus oil. However, this region, where al-Amoudi's Horizon Plantations Ethiopia is also active, borders onto the Somali National Regional State (SNRS, see here).
Flora EcoPower, which is run by Patrick Bigger and Andreas Burger, has never managed to turn the venture into a success. Subject to insolvency proceedings since July 2015, for many years the company has been trying to attract investment for its farm and refinery, and for a long time thought it would succeed in the case of Herakles Farm. Run by Bruce Wrobel, the company is the public face in Africa of the American investment firm Blackstone Group, founded by Stephen A. Schwarzman.
In 2013, managers from Herakles' operation in Cameroon came to assess Flora EcoPower's production resources and its performance, but no partnership ultimately came of it. In the end, Patrick Bigger and Andreas Burger entrusted the running of their oil refinery in Fetachu, near to Harar, to the Ethiopian firm K&S, which is run by Pakistanis from Sudan and Yemen who have already worked in Ethiopia for the Endowment Fund for the Rehabilitation of Tigray (EFFORT, a group of companies with links to the EPRDF, Ethiopia's ruling coalition) and for Al-Habesha Sugar Mills, owned by the Pakistani investor Abdul Majeed Pardesi.
---