Ethiopia's ruling coalition sweats over insecurity as Oromo, Amhara MPs protest. TPLF's Finfinnee Card Disqualified. December 22, 2017
Posted by OromianEconomist in #OromoProtests.
Tags: #OromoProtests, Africa, Africa News, Boycott TPLF and its business, Civil Disobedience Against Tyranny, Down Down Wayane TPLF, Ethiopia, Finfinnee, MPs Protests, Oromia, Social movements
trackback
Itoophiyaa keessatti wanti Oromoon afoo dhaabate kamuu hin milkaayu.
Woyyaaneen tibbana Oromoo kallattii fi xiyyeeffannaa dhabsiisuuf ni hojjata, hariiroo Oromoo fi Amaaraa jiddutti uumamaa dhufe booressuudhaaf furmaata jettee kan yaadde kaardii Finfinnee qabattee gadi baate. Kaardiin isii kuni guyyaa haraa harkatti gubateera, garuu. Kunis kan ta'e siyaasa bilchina qabu, isa fageessuu yaadu Oromoon geggeessuu isaatiin. Kaardiin Finfinnee kan harkatti gubate, wolhubannaan OroMara kan abshaalummaa isii harkaa fudhate, sa'aa kanatti  Woyyaaneen taasiyaa irra jirti.
Barana Woyyaaneen hedduu rakkatte.  Hallayyaa siyaasa hamatti dhidhimte. Qilee itti badde keessaa harkisee nama baasa jettee waan ol'kaayatte keessaa inni tokko kaardii Finfinnee ture. Dhimmi Finfinnee dhimmi miira Oromoo tuqu akka ta'e beekti. Dhimmi Finfinnee saboota (keessatuu Amaara) birattis bifa addaan ilaalama. Yeroo irreen Oromoo fi Amaaraa hudhee isii qabe kanatti abdiin Woyyaanee dhimmi Finfinnee Oromoo fi Amaara wolnyaachisa, haariiroo amma isaan lamaan jiddutti uumame ni balleessa, qilleensa wolhubannaa biyyaa fi biyyaan alattis mul'ataa jiru ni summeessa jettee amanti ture. Kan ta'e faallaa waan silaa isiin ni ta'a jettee eegaa turteedha. Kaardiin isii himtuu mardoo malee funyoo gaafa rakkoo isiif ta'uu hin dandeenne.
Woyyaaneen ummanni bakkuma durii (diina woloo dhiisanii wolitti wocuu fi wolitti qoxxisuu) jira jettee yaaddi. Woyyaanetu bakka dhaabattetti gogee hafe malee ummanni, sakallaanis ta'u, hedduu tankaarfateera. Woyyaaneen akkanatti yaadaa, siyaasa biyyattii bifa kanaan hubataa yoomuu ariitee ummata kana kan dhaqqabdu hin fakkaatu; hanga ummanni dhaabatee hin eeginitti. Ummanni foollii bilisummaa argu eegale kana booda wolqabatee yoo hedduu funduratti saffise malee carraan wolsakaaluu jira hin fakkaatu. Woyyaanee fi kittillayyoonni isii #Oromaaraa hin dhaqqabdanii abdii kutadhaa.
---
#Ethiopia – Addisu Arega, Oromia state communic'n head, says the Oromo people should ask to postpone the 'public hearing' called by parliament for today to discuss the thorny constitutional issue of #Oromia's special interest over #AddisAbeba. The timing is stressful, he said. pic.twitter.com/zATmoEboVA

— Addis Standard (@addisstandard) December 22, 2017
በስብሰባው ላይ የተገኙትና የመጀመሪያውን የተቃውሞ ደምጵ ያሰሙት የኦሮምያ ኮምኒኬሽን ጵ/ ቤት ሀላፊ አቶ አዲሱ አረጋ ባደረጉት ንግግር ከ600 ሺህ በላይ ህዝባችን በኦሮምያና ሶማሌ ግጭት በተፈናቀለበትና በየቦታው ግጭቶች በቀጠሉበት፣ ረቂቅ አዋጁም ህዝባችን ባልተወያየበት ሁኔታ ይህ ስብሰባ መጠራት እንደሌለበት በመጥቀስ ለሌላ ግዜ እንዲተላለፍ ጠይቀዋል። ይህን የአቶ አዲሱ ንግግር አብዛኛው የኦህዴድ የፓርላማ አባላት በጭብጨባ ድጋፍ ሰጥተዋል።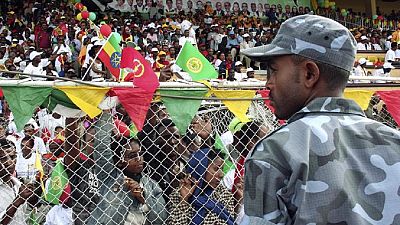 The Ethiopian People's Revolutionary Defence Front (
EPRDF

), the country's ruling coalition is facing an internal crisis which has led to Members of Parliament (MPs) belonging to two main blocs – the Amhara and Oromia, boycotting parliament, the 

BBC

 Africa Live page has reported.

The coalition in a statement released on Wednesday admitted that it was facing gradual 'mistrust and suspicion' among the four main blocs. 

OPDO

, 

ANDM

, 

TPLF

and 

SEPDM

.

Twenty four later, members of the Oromo People's Democratic Organization (OPDO) and the Amhara National Democratic Movement (ANDM) boycotted parliament calling for Prime Minister Hailemariam Desalegn to give an explanation on escalation in recent deadly violence.

The statement according to local media sources went on to assert that a weakness of the executive arm was responsible for the current state of affairs. It said the 'weakness of the executive' had contributed significantly to the deteriorating security across the country.

The other two EPRDF parties are the Tigrayan People's Liberation Front (TPLF) and the Southern Ethiopian People's Democratic Movement (SEPDM). The coalition holds 100% seats of the parliament.
Ethiopia speaker of parliament quits over govt handling of recent clashes http://bit.ly/2wESpfi 

Ethiopia speaker of parliament quits over govt handling of recent clashes

The government deployed Federal security forces to bring the deadly situation under control, a decision that is said to have led to Gemeda's …

africanews.com
Ethiopia's three-pronged security crisis
The security situation in Ethiopia is a mix of anti-government sentiment on one hand, ethnic clashes affecting two major regions and a deadly turn of events across some universities in the Horn of Africa country.
Most universities affected by serial deaths of students have closed down due to a lack of conducive atmosphere for studies. The government has said that the deaths were politically inclined and that it was doing everything possible to remedy the situation.
Then last week, sixteen people were reportedly shot in the town of Chelenko in the Oromia region. The regional communications chief blamed it on federal security forces who opened fire on protesters unhappy about the killing of a resident. The government says it has opened a probe.
Then there is the border tensions between the Oromia and Ethiopia-Somali regional states. An escalation in the age-long tension late last week led to the deaths of 61 people on both sides. Scores were also reported to have been injured, houses burnt and hundreds internally displaced.
This site uses Akismet to reduce spam. Learn how your comment data is processed.