Irreecha Massacre: Bishoftu Massacre: Fascist Ethiopia's regime (TPLF) has committed war crimes and crimes against humanity in Oromia (Ethiopia) on the peaceful Irreecha ceremony- Oromo thanksgiving day, 2nd October 2016 where over 4 million celebrating the Oromo National Cultural Day at Horaa Harsadii, Bishoftu, Oromia. October 2, 2016
Posted by OromianEconomist in #OromoProtests.
Tags: Africa, Bishoftu Massacre 2nd October 2016 at Irreecha, Fascist Ethiopia's mass killings at Irreecha, Genocide, Genocide Against Oromo People, Irreecha (Oromo Thanksgiving), Irreecha 2016, Irreecha Birraa (Malkaa), Oromia, Oromo, Thanksgiving
trackback
Ethiopia's regime's ( TPLF) mass killing at Irreecha Makaa 2016 in Bishoftuu. #Irreechamassacre
---
TPLF soldiers (Agazi) opened fire from ground by snipers and commandos  and helicopter on these people celebrating Ireecha Birraa at Harsadii  Lake in Bishoftu, Oromia.
An Oromo just shot and killed in Bishoftu at an area called 'Circle'. His body still there as soldiers prevented medical personnel and civilians from picking him up.
Shoes of Oromo people killed by fascist Ethiopia's regime forces (TPLF, Agazi) during Irreecha 2016 in Bishoftu. Genocide is gooing on. 2nd October 2016.
UUUUUUUUU Genocide against Oromo people by TPLF. This is at Hora Harsadii while millions of Oromo People at Irreecha, 2nd October 2016.
As social media more accurately reports from the field and hospitals,  more than 800 people were massacred and thousands were jured   by TPLF while more than 4 million people  celebrating the most popular  African based Oromo Thanksgiving season on 2nd October 2016. The number of people killed by Agazi on 2nd October on Irreecha day may be increased. The genocide has been going on  over 25 years particularly since November 12, 2015 as the world community has been watching.
Hundreds of people fell into this deep ditch as bullets tear gas fell on millions from helicopter and ground soldiers
Ergaa kana naaf dabarsi Beekan.. ANi ogeessa fayyaa Hospiitaala Bishooftuuti. Namoota du'aniifi gaggaban adda baafachuu hamma dadhabnetti jirra. AKka warra lubuun keessa jiru hinyaallannettis nama jala erganii nudanqaa jiru. Dawwaanillee dhumee waan ittiin madaa isaani qoorsinu fixneerra. Warri akkanumaan gar aFinfinneetti refer' gochaa jirrus utuu achi hingahiin du'uuti malu. Nama gaddisiisa. Har'an ogeessa fayyaa ta'uukoo of abaare. Jarri saba keenyaa lafarra daguuguuf murteeffatteetti. Ani kanin lakkaa'ee qofti dhibba sadii ol ta'a…maaloo warri sagalenkeessan dhaga'amu, sabni kun ciisee du'uurra ajjeesee akka du'uuf dhamsa nuuf dabarsa. Namoota naannoo Bishooftu jiraniin adaraa dhiigaa nobboleeyyan keessaniif nuuf arjoomaa naajedhiin. kana boda abbaatu ofmara jedhe bofti.ani dhukkuba uumamaa sabnikoo ittiin miidhamu yaaluufan baradhen se'e amma garuu ajjeechaa Wayyaaneen lammiikoorratti gootu ..yeroon siif katabu kana office ' koo balbala cufadhee imimmaan ofirra lolaasaadha. Gaafa haatikoo duute akkas boo'ee hinbeeku. Adaraa tokkummaan ka'aa naa jedhiin.
---
(OPride) — At least 250 feared dead in Bishoftu, Ethiopia, after police used tear gas and opened fire on people gathered to mark Irreechaa, the Oromo thanksgiving festival, according to activists and eyewitness reports. The Irreechaa holiday at Hora Arsadi, the crater lake near the site of Sunday's massacre, is considered the biggest cultural and spiritual celebration in Africa.
---
On this day, October 2, which will be entered into history books as the Irreechaa Massacre, the sacred grounds of Arsadi were littered with dead bodies, according to reports. The mass arrests began a day early. Tensions run high all day as military helicopters flew above the crowd at lower altitude, in what was seen as an effort to intimidate the gathering crowd. At the city entrances, security checkpoints stretched for hours as festival goers arrived from across Oromia. But despite the heavy security presence, Irreechaa goers still expected to partake in a peaceful celebration of the arrival of Birraa, as the holiday marks a seasonal change from dark and rainy winter months to a bountiful Spring.

But chaos, confusion and stampede broke out in the early afternoon when the youth booed the newly elected chairman of the ruling Oromo People's Democratic Organization, OPDO, off the stage. The protests began as soon as the crowd filed into the malka, the river bank, close to the stage where politicians hoped to make political statements – statements that are often unheard and unheeded even on a "normal" year. It's clear that the youth were ready to make a statement of their own to the local officialdom – in an unusual in your face type of way. But their protests were peaceful. They crossed arms, forming an X, popularized by Oromo marathon runner Feyisa Lilesa, to say no to the killings, beatings and arrests. It is an incident like no other. A turning point for the 11-month old Oromo protests, a popular uprising against the Oromo people's continued social, economic and political marginalization by the central government in Ethiopia.

Irreechaa has emerged at the most important event among the Oromo. It is officially a celebration of the bountiful harvest of Birra but a celebration of Oromummaa itself. It is the most unifying event for the Oromo, who constitute at least half of Ethiopia's 100 million people.

This wasn't an ordinary year for Oromo and for Ethiopians as a whole. More than 1,000 people have been killed, mostly in Oromia, but also in the Amhara state in the last 11 months.
---
Opposition party says stampede kills at least 50 people in chaotic scenes in restive Oromiya region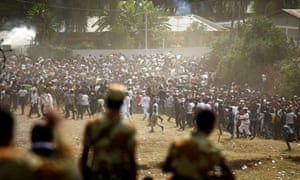 Police in Ethiopia's Oromiya region fired teargas and warning shots to disperse anti-government protesters at a religious festival, triggering a stampede the opposition party said killed at least 50 people.
Note: Dr Merera told The guardian about 50 casualties several hours ago right after the news first emerged. Current estimate stands over 350. Also note, they are still waiting for bulldozers to dig people who feel deep into the ditch and waiting for divers for those who fell into the lake. Jawar Mohammed
WP: Dozens of deaths during stampede at Ethiopia religious event
---
---
---
Several people have been killed in a stampede in Ethiopia's Oromia region after police fired tear gas and warning shots to disperse a protest.
---
---
Thousands of people gathered for the annual Irreecha festival in Bishoftu, about 40km south of the capital.
Protesters chanted slogans against the Oromo People's Democratic Organisation, one of four regional parties that make up the Ethiopian Peoples' Revolutionary Democratic Front, which has ruled the nation for quarter of a century.
---