Ethiopians on Twitter are reacting to the news on Thursday that a top official of the Oromia regional state had been detained by authorities for criticizing the army over recent killings in the town of Molaye.
Taye Dendea, a lawyer and head of the Oromia regional state's justice bureau's communication and PR department told the VOA Amharic service that he did not believe that the army's killing of civilians in Molaye was a mistake.
Local media and online activists confirmed his arrest, stressing that he was not a stranger jails. He has previously served three and seven years on charges that he belonged to the banned Oromo Liberation Front (OLF) during his varsity years between 2003 and 2016.
Ethiopian tweeps, meanwhile, continue to laud him for his firm stance on the security crisis that has rocked Oromia state amid a controversial February 16 nationwide state of emergency imposed ostensibly to quell spreading violence.
The Addis Standard portal in its report on the arrest noted that this is the third time Taye has been detained."It took Taye a total of 16 years to graduate with his first degree in Law before he joined the Oromia justice bureau in 2017," the report added.
Under the rules of the Command Post, it is illegal to criticize the SOE. He is not the first Oromia state official to be picked. Reports indicate that deputy police commissioner of the state, chief administrator of East Hararghe and Mayor of the town of Nekemt, among others are in detention.
Another prominent person held by the authorities is blogger and lecturer, Seyoum Teshome, whose writings criticized the SOE. He is currently held at the Maekelawi prison in Addis Ababa – after a court gave police two weeks to establish a case against him.
The Moyale incident has led to a humanitarian situation in the border town with Kenya. Over 8,000 people – mostly women and children have fled to Kenya. The state-run EBC also confirmed that 39,000 people had been displaced.
---
Related from Oromian Economist Sources:
Hogganaan kominikeeshinii biiroo haqaa Oromiyaa obbo Taayyee Danda'a hidhaman.– BBC Afaan Oromoo, 15 Bitooteessa 2018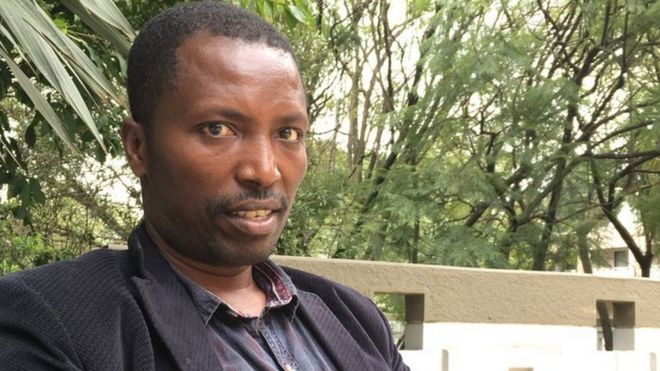 Itti gaafatamaan Kominikeeshinii Biiroo Haqaa Oromiyaa Obbo Taayyee Danda'a har'a ganama hidhamuun dhagahame.
Namoonni argan BBC'tti akka dubbatanitti har'a ganama magaalaa Finfinnee kutaa magaalaa Gullallee naannawa mana jireenya isaanii Addisuu Gabayaa jedhamuuti poolisoota federaalaa hidhataniin to'annaa jala oolan.
Haati warraa isaanii addee Sintaayyoo Alamaayyoonis hidhamuu isaanii mirkaneessaniiru.
"Qabamuu isaa dhagaheera, eessa akka geessan hin beeku, Konkolaataan isaa karra irra dhaabatti ture, gaggeesseen biraa deebi'e."
Ammaaf eessa akka geeffaman wanti beekame hin jiru.
Labsii Yeroo muddamaa keessatti ogeeyyiin Komunikeeshinii dhimma nageenyaa irratti miidiyaaleef ibsa akka hin kennine ni dhorka.
Haa ta'u malee, ammaaf sababa maaliin akka hidhaman wanti ifa ta'e hin jiru.
Obbo Taayyee Danda'aan dhiyeenya ajjeechaa Mooyyaleetti humnoonni waraanaa lammiilee nagaa irratti raawwatan miidiyaalee ala jiranif yeroo dubbatan biiroon isaanii dogongoraan raawwate jedhee akka hin amanne dubbataniiru.
Obbo Taayyee Danda'a kanaan duras yeroo barumsarra turanitti yeroo adda addaattii waggaa dheeraaf hidhaarra turan.
---
Obbo Taayyee Danda'aa Eessatti Akka Hidhaman Barbaannee Dhabne: Maatii.- VOA Afaan Oromoo
NEWS: ETHIOPIA SECURITY DETAIN COMMUNICATION AND PR HEAD OF OROMIA JUSTICE BUREAU, MOVE SIGNALS GROWING CRACKDOWN AGAINST THE REGION.- Addis Standard