Posted by OromianEconomist in Uncategorized.
6 comments
A Fine Theorem
Occasionally, the Nobel Committee gives a prize which is unexpected, surprising, yet deft in how it points out underappreciated research. This year, they did no such thing. Both William Nordhaus and Paul Romer have been running favorites for years in my Nobel betting pool with friends at the Federal Reserve. The surprise, if anything, is that the prize went to both men together: Nordhaus is best known for his environmental economics, and Romer for his theory of "endogenous" growth.
On reflection, the connection between their work is obvious. But it is the connection that makes clear how inaccurate many of today's headlines – "an economic prize for climate change" – really is. Because it is not the climate that both winners build on, but rather a more fundamental economic question: economic growth. Why are some places and times rich and others poor? And what is the impact of these differences?…
View original post 3,487 more words
Posted by OromianEconomist in Irreecha, Uncategorized.
Tags: Africa, Ancient Kemetic Culture, Irreecha, Irreecha Malkaa Ateetee 2018, Irreessa, Malkaa Ateetee (Buraayyuu), Malkaa Sabbataa, Oromia, Oromo, Oromo culture, Oromo people
add a comment
As a continuation of  the celebration of Oromo national and Cultural Holiday annual season, massive people turned out on 7th October 2018 to celebrate the colorful Irreechaa  season at Malkaa Ateetee, in Buraayyuu.  The event was colorfully and peacefully held and concluded with full of joy at Hora Gafarsaa in Buraayyu, Oromia, 10 km west to Finfinnee, the capital of Oromia. This is the 2nd biggest Irreecha Birraa celebration a week after the
grand festival at Hora Harsadii, Bishoftuu, on  30th September  2018.
The Gamo people also celebrated Irreecha at Malkaa Ateetee with   Oromo people. Irreechi Malkaa Ateetee Onkoloolessa 7 bara 2018 haala bareedaa fi  nagayaan irreeffatame.   
#Irreecha2018
---
"የቡራዩ የመልካ አቴቴ ኢሬቻ በሰላምና በፍቅር ተጠናቋል። የአከባቢው አሮሞ ህዝብ ከጋሞ ወንድሞች፣ እህቶችና ከሌሎችም ወንድሞች ጋር አብረው አክብረዋል." Milkeessaa Miidhagaa
Torban Irreecha Hora Arsadeetti kabajametti,
Irreecha Malkaa Ateetee
Buraayyuutti, Irreecha Biyya Ameerikaa kutaa
Miniyaapoolis magaalaa Lakkuutti, Awustraaliyaa magaalaa Melboornitti, akkasumas kan Keenyaa Naayiroobii ammoo Siitii Paark bakka jedhamutti kabajamee ooleera.
BBCAfaan Oromoo.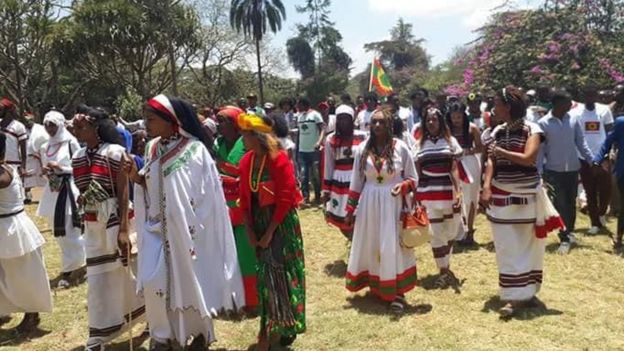 Irreecha namoota 6 irraa hanga miiliyoona 6tti
Irreecha Arfaasaa Awustiraaliyaatti
Irreecha biyyoota addunyaa gara garaa keessatti
Irreecha Hora Arsadee bara kanaas kan adda taasisan taateewwan hedduutu jiru. Isaan keessaas: Sabaaafi sablammoonni obbolaan Oromoo hedduun irratti hirmaachuudha. Gareedhaan gurmaa'anii uffataafi waan eenyummaa isaanii calaqqisiisuun faayamanii sabaafi sablamoonni Kibbaa irratti argaman, saba Sidaamaa, saba Koonsoofi saba Alaabaa akka jiran gabaafnee turre. Lakkoofsi namootaa irreecha Hora Arsadee bara kanaarratti argamees dabaluun olitti namoonni sababa gara garaan biyyaa baqatanii turan wagoota hedduun booda deebiyanii irratti argamanii galata galfataniiru. Irreecha bara kanaa waanti adda taasisu kan biraan namoonni gaa'ela isaanii guyyaa galataa kana raawwatan baayyeen jiraachuudha.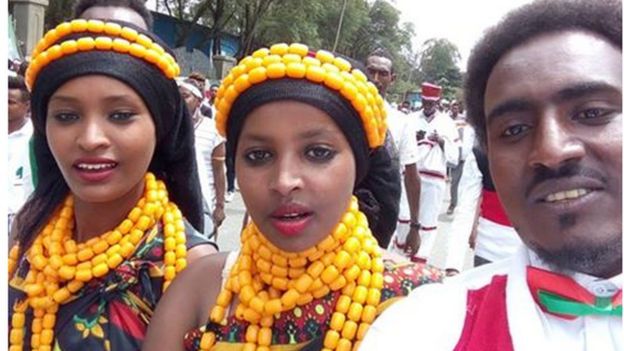 Namoota Irreecha Hora Arsadee kanarratti cidha isaanii raawwatan keessaa misirroonni nuti dubbifne maaliif akka guyyaa kana filatan yeroo dubbatan, guyyaa tokkummaafi jaalalaa waan ta'eef jedhu. Itti karoorfatanii Jimmarraa akka dhufan kan dubbatan warri walfuudhan kun, carraa namoonni miliyoonaan lakkaa'aman amaamota isaaniif ta'ellee ni dubbatu.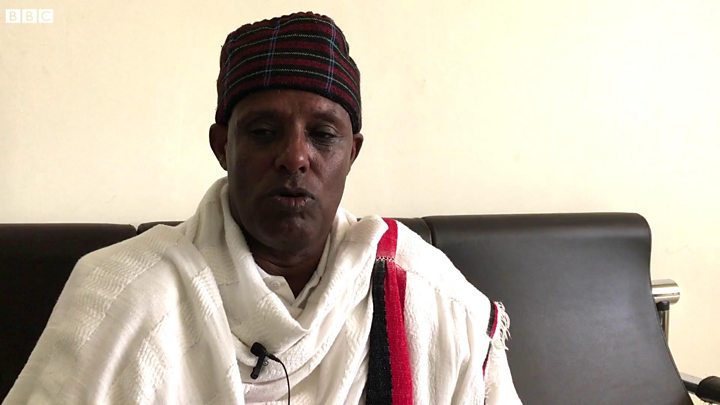 Irreechi bakkawwan kabajame maratti galata galfachuun alatti ergaan tokkumma cimsachuu, jaalala qabaachuufi quba walqabaachuu akka ta'e hirmaattonni Irreecha kan Naayiroobii irratti hirmaatan ni dubbatu. Irreechi waltajjii aadaafi eenyummaa ta'uurra darbees kan tokkummaafi jaalalaa ta'uu isaatiinis maqaa gaarii horachaa deemuun dagagaa jiraachuu hirmaattonni ragaa ba'u.
VIIDIYOO
 'Irreecha' Naayroobii VOA Afaan  Oromoo irraa
as tuquun ilaalaa
. Irreecha Aanaa Ammaayyaa Horaa Gaangooti irreeffatameera.
https://www.facebook.com/tesfaye.assefa.739/posts/2357724517788071
Irreecha
 malkaa Sabbataa haala gaariin Irreeffatame.
https://youtu.be/IbvsgtrfwlM