OLLAA: Massive Crackdown on Political Oppositions and Civilians by the Ethiopian Government May Undo Global Efforts in Controlling COVID-19 Pandemic August 19, 2020
Posted by OromianEconomist in Uncategorized.
Tags: Ethiopia's colonizing structure and development problems in Oromia and Omo Valley, Human rights violations, Human Rights violations against Oromo People, OLLAA
trackback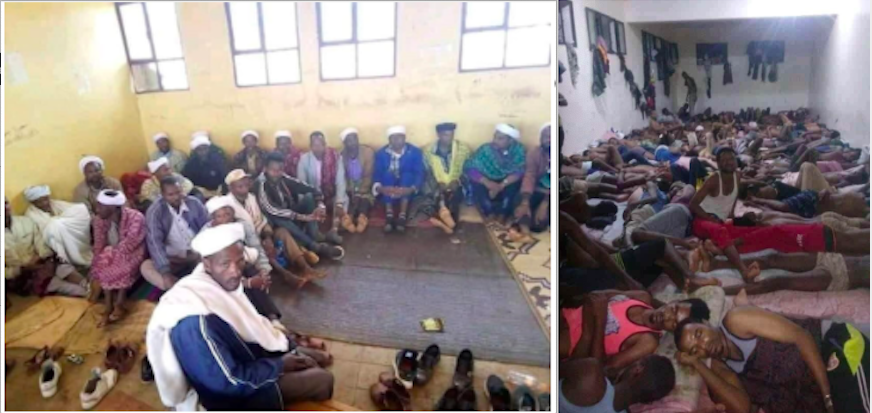 (left: Gayyoo village, right: unidentified prison in Ethiopia)
Compiled by Daniel Elias (PhD)
Aug 18th, 2020 – Following the killing of the widely popular Oromo artist and human rights activist Haacaaluu Hundeessaa by yet unidentified gunmen in the Ethiopian Capital on June 29th, 2020, and the subsequent arrest of influential Oromo politicians including Jawar Mohammed and Bekele Gerba, there was widespread protest in the restive Oromia region. By the government's admission, more than 239 people were killed, more than 9,000 people arrested and hundreds wounded by the heavy-handed security forces who were raining live bullets against largely peaceful and unarmed protestors.
In trying to silence the protest, the government led by prime minister Abiy Ahmed, has undertaken a brutal crackdown on opposition party supporters, resulting in the arrest of thousands of people in make-shift prisons in appallingly crowded conditions. In the face of the current COVID-19 pandemic, this may turn out to be yet another threat to global health. Ethiopia is the second most populous country in Africa with a population of over 115 million.
In the past few weeks, UNOCHA reported that Ethiopia saw a three-fold increase in confirmed cases of COVID-19 in July. 59% of recent cases resulted through community transmission, heavily contributing to the rapid increase of COVID-19 cases (https://reliefweb.int/report/ethiopia/ethiopia-humanitarian-bulletin-issue-13-27-july-11-august-2020).
A recent report by the human rights watch reported the jailing of up to 500 people in single classrooms turned into prison cells in the capital Addis Ababa. This amounts to adding fuel to the already soaring COVID-19 infections in Ethiopia. The daily report by the Ethiopian Health Minister showed that COVID-19 infection is exponentially increasing in Ethiopia following the recent popular unrest and the subsequent mass arrest. Considering the high population density, extreme poverty and poor healthcare infrastructure in Ethiopia, it is hard to imagine that the country can manage a crisis of such magnitude if urgent measures are not taken now to limit the spread of the infection.
While the extent to which the political turmoil in Ethiopia will exacerbate the global pandemic is difficult to estimate at the present time, it is becoming clear that COVID-19 infections are becoming very frequent in the crowded Ethiopian prisons. Detainees have been kept at different sites where they face increased risks of contracting COVID-19 in detention. Relatives, lawyers, and those released said that several security guards and detainees reportedly tested positive for the virus that causes COVID-19, Human Rights Watch said on August 15th, 2020.
Misganu Muleta, a lawyer representing some of the most prominent political prisoners in Ethiopia including Jawar Mohammed, has stated that one of his clients, Dawit Abdissa, who was jailed in one of the crowded cells in Addis Ababa, was confirmed to have contracted COVID-19. A spokesperson for the Ethiopian Health Minister, Tegene Tafa has recently confirmed that Dejene Tafa, the secretary of the Oromo Federal Congress (OFC), has tested positive for COVID-19. He was detained in a school turned prison in Addis Ababa along side hundreds of other political prisoners. https://www.msn.com/en-in/news/other/mass-arrests-in-ethiopia-raise-spectre-of-repressive-past/ar-BB17Vc92. A Kenyan photo journalist, Yasin Juma, who was arrested in Addis Ababa was reported (www.msn.com/en-xl/news/other/yassin-juma-kenyan) on August 13th, 2020 to have been tested positive for the infection. These are clear signs that the crowded Ethiopian prisons are becoming hot beds for the spread of COVID-19 infections.
At a time when international and global health experts are urging governments to reduce overcrowding in jails to tackle COVID-19, practices that lengthen the pre-trial period, are particularly problematic and ignore Ethiopia's own commitments, Human Rights Watch said.
A more worrisome situation is that the Ethiopian government has renewed restrictions on individual rights. The government's use of repressive tools in its latest crackdown—including arbitrarily arresting citizens and shutting down the internet and telephone services—echoes tactics employed by previous Ethiopian leaders and directly threatens the progress made over the last two years. This is fueling popular unrest across the country, to which the government is responding by rounding up people in hundreds and putting more and more people in makeshift prisons, a situation that favours the rapid spread of Coronavirus. In addition to the pandemic economic crisis, the month-long internet shutdown cost Ethiopia over $100m NetBlocks said, while the country is in need of humanitarian support for the displaced communities from the different parts of the country.
A recent UN report showed that the popular unrest is causing massive displacement of people making humanitarian operations, including COVID-19 activities difficult. For instance, according to the UN, more than 37,000 re-displaced people in west Wollega are in need of immediate, sustainable solutions. The UN Coordination of Humanitarian Affairs (UNOCHA) stated that the unrest in Oromia has dramatically decreased testing for COVID-19 and disrupted contact tracing of suspected cases.
As it stands now, there is no end in sight for the popular unrest, which was ongoing in the most populous Oromia region and it is in fact spreading to other regions in the South of the country, as indicated by the uprising in Wolaita on the 12th of July (2020), which has resulted in the killing of over 34 unarmed civilian protesters in a couple of days and the jailing of hundreds in crowded conditions. It appears that there is no end in sight for the unrest and the consequent social crisis resulting from massive imprisonment and displacement coupled with a poor healthcare system, which is a fearsome combo that may undo the global effort in controlling the COVID-19 pandemic.
Sources
International and Global health experts https://www.ohchr.org/EN/NewsEvents/Pages/DisplayNews.aspx?NewsID=25745&LangID=E)
NetBlocks: https://netblocks.org/reports/internet-cut-in-ethiopia-amid-unrest-following-killing-of-singer-pA25Z28b
UN – https://addisstandard.com/wp-content/uploads/2020/08/humanitarian_bulletin_27_july-10_august_2020_final_for_publication-1.pdf
Addis standard – https://addisstandard.com/news-more-than-37000-re-displaced-people-in-west-wollega-in-need-of-immediate-sustainable-solutions-un/Oromo Legacy Leadership And Advocacy Association (OLLAA) has stood alongside with voiceless and faceless victims killed, falsely arrested, and forced into exile to become refugees at homes and abroad by the thousands. We believe the Oromo people, like others, deserve to be heard and to be understood for all the sacrifices they have paid and are still paying. Right now, we are truly disturbed by the daily news of human rights violations coming from Oromia!
Our Solution & Plan
Our immediate quest is to show and pursue the international community that federalism is not up for debate and once again continue to speak up & build a platform for Oromos are being prosecuted. Donate to OLLAA as we:
Hire professional human rights consultants to speak on behalf Oromos
Hire researchers in Oromia to ensureaccurate real-time information and to write professional reports in English so as to spread truthful & repressed information internationally.
Globalizing Oromo human rights violation concerns by writing weekly & building relationships with international non-profit like Human Rights Watch, Freedom House as well as United Nations & United States government
Work on creating a stronger network & society through development work such as investing in education, youth leadership, women & girls projects, businesses, and much more