Posted by OromianEconomist in Athletic nation, Uncategorized.
Tags: 3000m, Athletic Nation Report, Genzebe Dibaba, IAAF, Oromia, Oromo athletes, Sifan Hassan, WOMEN'S 3000M – IAAF WORLD INDOOR CHAMPIONSHIPS BIRMINGHAM 2018, World Indoor 2018
6 comments
Oromo athlete Genzebe Dibaba wins 3,000m world title  for the 3rd consecutive years.  Oromo athlete Sifan Hassan for Netherlands takes silver and Laura Muir of UK earns bronze in IAAF World Indoor Championships 2018.
Genzebe Dibaba wins her 3rd straight 3000m World Indoor title with a time of 8:45.07.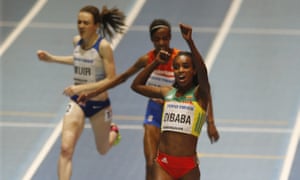 Laura Muir wins bronze in the world indoor 3,000m behind Genzebe Dibaba (gold) and Sifan Hassan. Photograph: Alastair Grant/AP. Source,  The Guardian.
'The IAAF World Indoor Championships Birmingham 2018 may have only just started, but the women's 3000m could be remembered as one of the best events of the championships. Genzebe Dibaba was defending her title against 13 other women in a field that included world 5000m champion Hellen Obiri, 2016 world indoor 1500m champion Sifan Hassan and double European indoor champion Laura Muir to name but a few. The Ethiopian holds numerous world records indoors and out, but tonight was about winning medals, not breaking records. She duly went right to the back of the field, just behind Hassan, as the race got underway'…. more at IAAF Report: The IAAF World Indoor Championships Birmingham 2018