#OromoProtests Global Solidarity Rally, Justice for #HacaaluuHundeessaa Free Jawar Mohammed #AbiyMustgo July 4, 2020
Posted by OromianEconomist in Uncategorized.
trackback
Join #OromoProtests 
for the campaign use this letter format and contents
No clampdown on communications can conceal the fact that Ethiopia's prime minister, Abiy Ahmed, is struggling to calm his own people.
https://vm.tiktok.com/JRgTXRb/
July 4, 2020
3 Adooleessa 2020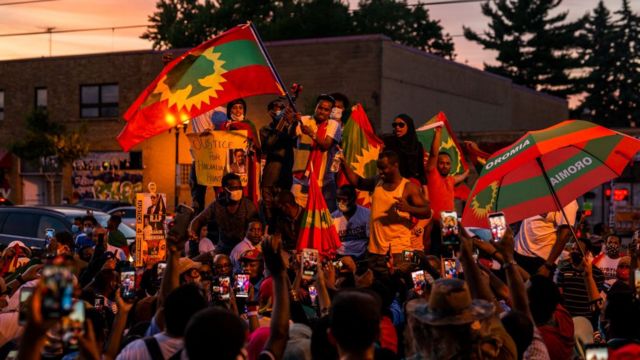 Hawaasni Oromoo biyyoota addunyaa garaagaraa jiran ajjeechaa Art. Haacaaluu Hundeessaarratti raawwatameefi hidhamuu hooggantoota siyaasaa mormituu balaaleffatu gaggeefamaa jira.
US keessatti hiriirri mormii kan eegale halkan Art. Haacaaluu Hundeesssaa itti ajjeefame bulee yoo ta'u maagalota garaagaraa keessatti sirni gadda ibsachuufi ajjeechaa sana balaaleffachuu gaggeefamuu eegale itti fufeera.
Hawaasni Oromoo Minisootaa ammoo guyyaa afraffaaf hiriira itti fufee jira.
Obbo Jawaariifi Obbo Baqqaalaan mana murtiitti dhiyaatanii guyyaa gara garaatti bellamaman
Obbo Mikaa'el Booran dabalatee miseensotni Hoggansa ABO hidhaman
Dubbi himtuun hawaasa kanaa kan taatee fi mirga Oromoof dubbachuun kan beekamtuu Najaat Hamzaa bulchiinsa sadarkaa gadi jirurraa qabee hanga Federalaatti gaaffii isaanii dhiyeeessaa akka jiran BBC'tti himte.
"Wanni nuti gaafataa jirru Hooggantootni keenya hidhaa jiran akka gadlakkifamanfi mirgi Oromoo akka kabajamu dhiibbaa gochaa jirraa."
Gaaffii tartiibaan tarreesanii miidiyaalee biyyattiin kallattiin gabaafamaa ture.
"Bulchaa Minisootaa guuyyoota as adeeman keessatti argannee dubbisuuf jenna. Karaa cufuu caalatti wanna Kanaan dura hin godhiin hedduu gochuun sagaleen keenya akka dhgaahamu gochuu dandeenyeerra" jetti aadde Najaat.
Ajjechaa Arti. Haacaaluuf haqni akka kennamu gaafachuu, dureen hawaasa Oromoo hidhaman gadhiifamuun, Intarneeta ugguurame akka gadhiifamufi mirgi saba Oromoofi saboota kaaniis haa kabajamu kan jedhu gaaffilee isaanii keessaa ijoo akka tahaniis dubbatti.
Mana Maree Bakka Bu'oota Uummataa Ameerikaattii bakka buutuu Minisootaa Ilhaan Omar waliinis walarguuf sagantaan jiraachuu Najaat himteetti.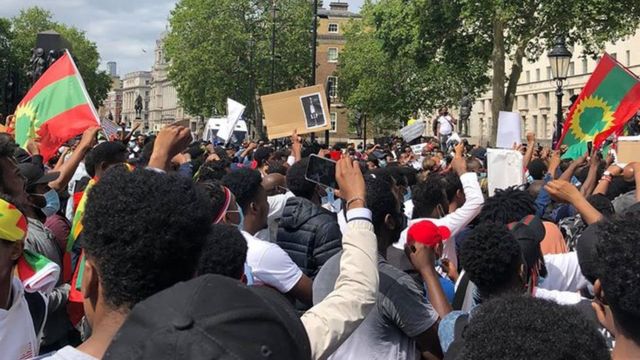 UK, magaalaa Landan masaraa Mootummaa Weesti Ministir fuula durattis hiriirri mormii gaggeefamaa ole.
Jiraataa Landan kan ta'e Manduu Hasan har'a hirriira kan baaneef bilisummaa uummata keenyaa, haqa Haacaaluu Hundeessaafi akkasuma hooggantootaa mataa mataa ta'an hidhuun miidhaa nurra gaheef sagalee keenya dhageessiisuuf jedhe.
Ajjechaa Haacaaluuf haqni hanga kennamutti, hooggantootni keenya hanga gadhiifamanitti yoo galuu hin barbaachisiin hin gallu, dalagaa wanti jedhamu hin jiru, daandii cufsiisnee as oolutti jirras" jedha.
Mormii isaanii seeraa biyya UK eeguun mirga sabaabfi sablammoota birootti osoo hin bu'iin "karaa naga qabeessa ta'een sirna mootummaa Itoophiyaa balaaleffachaa jirras" jedheera.
Ajjeechaa Haacaaluu hordofuun hokkora uumameen lubbuun namaa darbe
Guyyaa har'aa biyyii Awrooppaa biroon hiriira guddaa keessummeesite ammoo Jarmani.
Magaalaa Firaankifarti keessatti hawaasni Oromoo magaalittiifi naannawaa ishee walitti qabamuun mormii isaanii dhaageessisaniiru.
Magaala Firaankifartirraa kan dubbifne obbo Abdoo Qaadii Abbaa Jabal "guuyyaa sadii dura Qoontsilaa Itoophiyaa achitti argamu duratti sagalee keenya dhageessisuu akka feenu mootummaa Jarman gaafannee hayyama waan arganneef mormii keenya ibsachaa oollee" jedha.
Hiriira mormii kanarratti namootni kuma tokko ta'an qooda fudhachuu isaaniis nutti hime.
"Daandii guddaa Gara Qoonitsilaa geessu cufuun sagaleen keenya akka mootummaa Jarmanii bira gahu gochuun xiyyeeffannoo miidiyaalee biyyattii argachuu dandeenyeerraa jedha.
Gaaffiiwwan keenya irratti katabne xalayaan qopheessine mootummoota Awrooppaa akka gahu dhiyeessineerras jedha Obbo Abdoo Qaadiin.
"Hanga mootummaan Abbaa Irree Abiyy Ahimad kan uummata Oromoo tuffate gidiraa Uummata Oromoorratti qaqqabsiisu hanga dhaabutti, Jawaar Mohaammad, Baqqalaa Garbaafi qabsaa'onni biroon hanga hiikamanitti, dhimmi Haacaaluu hanga qulqullaa'ee ibsi kennamutti fi Oromoon nagaa argatutti duubatti hin deebinuu."
Siwiidin magaalaa Istookhoolmi, Neezarlaands magaalaa Amisterdaam dabalatee biyyoota kaan keessattis ajjeechaa Haacaaluufi hidhaa namoota siyaasaa Oromoorratti raawwatame hordofuun hiriirri mormii fi sagaleen bulchiinsa MM Abiy Ahimad balaaleffatu gaggefameera.