Posted by OromianEconomist in Uncategorized.
Tags: ODP, ofc, OLF, Oromia, Oromummaa, Tokkummaa Oromo, Unity of the Oppressed
add a comment
Ethiopia's ODP building alliances with opposition in Oromia, African News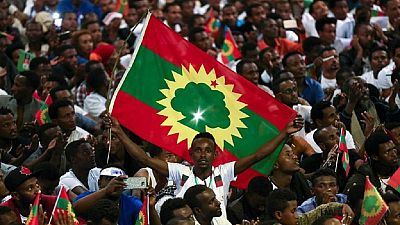 The ruling bloc in Ethiopia's Oromia region, the Oromo Democratic Party, ODP, continues building political alliances with competing parties ahead of elections slated for 2020.
ODP's spokesperson, Taye Dendea, confirmed this information to the Voice of America's Amharic service. He said the party was preparing to enter talks with over ten parties that shared a similar political agenda and plan of action.
Dendea added that further talks were being held with the Oromo Liberation Front, an ex-rebel group that returned from Eritreaafter a peace deal was signed between the two countries in July this year.
ODP led by Prime Minister Abiy Ahmed recently agreed a dealwith the Oromo Democratic Front, ODF, led by Lencho Leta. The merger was announced in late November after a meeting between Leta and Oromia region president Lemma Megerssa.
The 2020 elections will be the first vote after Abiy began his sweeping reforms aimed at opening the country's political and democratic space.
Abiy, an Oromo, has pledged to ensure that the vote is free, fair and credible and has stated publicly that he will handover power if the ruling Ethiopia Peoples Revolutionary Democratic Front, EPRDF, lost.
He has held talks with registered opposition groups and nominated a new elections chief to undertake reforms of the electoral body in the lead up to the polls. Birtukan Mideksa, a former judge and political dissident has been praised as being a right fit for the job.
The Ethiopia People Revolutionary Democratic Front comprises four main blocs:
The Tigray People's Liberation Front (TPLF).
The Oromo People's Democratic Organization (OPDO) now Oromo Democratic Party.
The Amhara National Democratic Movement (ANDM) now Amhara Democratic Party.
The Southern Ethiopian People's Democratic Movement, SEPDM.
More from Oromian Economist sources:l
Korri paartileen Oromoo 'haala qabatamaa naannichaafi cee'umsa gara dimokiraasii irratti' xiyyeeffate taasifame, BBC Afaan Oromoo
Waltajjii Marii jaarmiyaalee Siyaasaa Oromoo har'a Finfinneetti geggeeffamaa jira
=====
Waltajjiin marii Jarmiyaalee Siyaasaa Oromoo hundi irratti argaman kun mata duree marii "Ce'umsa gara Dimookiraasii fi haala qabatamaa Naannoo Oromiyaa" jedhurratti Finfinnee Galama Aadaa Oromootti geggeeffamaa jira.
Kaayyoon kanaas Jarmiyaaleen Siyaasaa Oromoo dhimma Waloo Ummata Oromoorratti dhimmoota waliin hojjechuu danda'anirratti wal hubannaa uumifi jedhameera.
Ka'umsa marii kanaatiif barreeffama qabsoo Ummata Oromoo eessaa garamitti, qormaatileefi sadarkaa qabsichi yeroo ammaa irra gaheefi kallattii qabsoo fuulduree Oromoo ilaalchisee qophaa'e Itti GaafatmaanSiyaasaafi Ijaarsa Baadiyyaa ODP obbo Addisuu Araggaatiin dhihaatee jira. Itti aansudhaanis Perofeesar Isqeel Gabbisaa bareefffan "eessaa kaanee eesssa turre, amma hoo eessa gahuuf deemaa jirra kan jedhu keessattti ummanni Oromoo yeroo ammaa kanatti gaaddisa tokko jalatti hiriiranii kan argamaniidha jedhaniiru. Kunummoo iccitiinsaa tokkummaa waan ta'eef jarmiyaaleen siyaasaa Oromoo maqaasaatiin ijaaramanis yeroon tokkummaan itti hojjetan amma jedhaniiru.
Yeroo ammaa Pirez. BMNO Dr. Kabajaa Lammaa magarsaa yeroo ammaa ce'umsaa dhufaa jiru waltaanee ceesisuun murteessadhaniiiru. Mariin itti fufeera bal'inasaa qabannee dhihaanna.
Guyyaan har'aa ganda TPLFitti guyyaa gaddaa tahuu argine. Mirqaanni isaanii guyyoota muraasa dabranii har'a bakka san hin jirtu. Sababni ifaa dha. Jaarmayaalee siyaasaa Oromootu waltajjii tokkorratti argamanii waan hegeree isaanii maryachaa jiran. Humnoota amma wal ajjeesu, amma wal diiganii qaawwa nuu banu jedhanii eegaa jirantu nagaaf dursa kennee maryachuu jalqabe. Kana caalaa kan boquu diinaa cabsu hin jiru. Humnoonni siyasaa Oromoos kana beekuu qabu. Waan diina gammachiisu irraa of qusatanii waan saba keenya mirqaansutti xiyyeeffachuu dha. Waamichi gabaa lagannaa fi dhaadannoon 'Lammaa fi Abiyyi diina keneya, nun bulchanu' jedhan Oromiyaa keessatti dhagahamuun fafa. Kun hawwii warra TPLF akka tahe beekuu feesisa. Oromoonis waamichoota mormii kan qaamonni tokko tokko dhiheessan hundumaa eeggannoodhaan laalee kan tahu fudhatee kan diina gammachiisu diduuf dammaqiinsa dabalachaa deemuutu irraa eegama.
https://www.facebook.com/permalink.php?story_fbid=770455773341464&id=100011311443078
alqabbii Gaarii, marii bu'a qabeessa
Har'a waltajjii marii dhaabbilee siyaasaatu ture. Waltajjiin kun ji'oota heddu dura waan eegalu qabu ta's amma jalqabuunuu waan guddaadha. Waltajjii kanarratti
– Injifannoo qabsoo wlaootiin argame waliin tiikfachuun barbaachisaa akka ta'e
– Jeeqamuun nageenya Oromiyaa nu hundaaf balaa hamaa akka qabu
– Mootummaa kana tumsuun cehuumsa kana bakkaan gahuuf murteessaa akka ta'e, hoggansi mootummaas dhaabbilee siyaasaafi qaamota biroo ofitti qabee gargaarsifachuun murteessaa ta'uu isaa.
– Dhaabbileen siyaasaa waliin mari'achuufi waliin dalaguun rakkoo nageenyaa furuufi tokkumma saba kanaa cimsuuf murteessaa ta'uu isaa.
– Mariin bifa kana akka itti fufuuf foramiin paartilee akka jaaramus waliif galameera.
Prez Lammaa Magarsaa kaka'uumsa kanaan as bahuu isaafii hogganoonni dhaabbilee hundaa hirmaannaa isaaniif ni galateeffanna. Hojiin kun cimee itti fufuu qaba.
Posted by OromianEconomist in Uncategorized.
Tags: Ethiopia, Horn of Africa Affairs, News from Oromia, ODP, OPDO, OPDO's 9th Congress, Oromia, PDO
add a comment
Rebranding itself, the Oromo People Democratic Organization (OPDO) has  changed its name to Oromo Democratic Party (ODP).
Paartiin Dimokiraatawaa Oromoo(ODP) yaa'ii isaa 9ffaan miseensota koree giddu galeessaa 55 filateera. Caalamaan isaanii dargagoota. Isaanis (Newly elected ODP Central Committee Members):
1. Dr. Abiyyi Ahimad
2. Obbo Lammaa Magarsaa
3. Dr. Warqinaa Gabayyoo
4. Obbo Birhaanuu Tsaggaayyee
5. Aadde Adaanech Abeebee
6. Inj. Taakkalaa Uumaa
7. Obbo Shimallis Abdiisaa
8. Obbo Umaar Huseen
9. Aadde Xaayibaa Hassan
10. Obbo Addisuu Araggaa
11. Dr. Girmaa Amantee
12. Dr. Biqilaa Hurrisaa
13. Dr. Milkeessaa Miidhagaa
14. Dr.Tashoomaa Addunyaa
15. Obbo Taayyee Danda'aa
16. Dr. Alamuu Simee
17. Dr. Tolaa Biriisoo
18. Kom/ Dammallaasha G/ Mikaa'el
19. Obbo Girmaa Hayiluu
20. Obbo Warquu Gaachanaa
21. Obbo Shaafii Huseen
22. Obbo Tolosaa Gaddafaa
23. Obbo Fiqaaduu Tasammaa
24. Obbo Birhaanuu Baqqalaa
25. Obbo Awwaluu Abdii
26. Obbo Geetuu Wayyeessaa
27. Obbo Kaasahuun Goofee
28. Obbo Abdulaakiim Muluu
29. Obbo Malaakuu Faantaa
30. Obbo Taarraqany Galataa
31. Obbo Abarraa warquu
32. Obbo Makuyyee Mohaammad
33. Obbo Ahimad Tusaa
34. Obbo Assagid Geetaachoo
35. Obbo Dhangee Booruu
36. Obbo Namarraa Bulii
37.Obbo Abdullaaziiz Mohaammad
38.Obbo Roobaa Turcee
39. Obbo Jamaal Kadir
40. Obbo kaffaloo Tafarraa
41. Obbo Masfiin Asaffaa
42. Aaddee laalisee Lammii
43. Obbo Naasir Huseen
44. Obbo Mogos Ida'ee
45. Dr. Darajjee Dhugumaa
46. Aadde Caaltuu Saanii
47. Aadde Loomii Badhoo
48. Obbo Muhaammad Kamaal
49. Dr. Inj. Habtamuu Ittafaa
50. Dr. Inj. Geetaahuun Makuriyaa
51. Obbo Mashoo Olaanaa
52. Obbo Alamtsaah Shifarraa
53. Obbo Ahimad Idiriis
54. Aadde Muunaa Ahimad
55. Obbo Xilaahun Fiqaaduu
---
---
---
Faaruu ODP (haarawaa har'a ragga'e)
ODP
ODP, ODP paartii jijjiiramaa
Gurmuu qabsoo Oromoo mirgaa fi walabummaa
Faajjii bilisummaa bu'uura Oromummaa
Partii tarkanfataa kutatee falmataa
Galmisaa milkeessuu fedhiif faayidaa Oromoo
Feedhiif faayidaa uummataa
Abbaa kayyoo dhugaa ilaalcha moo'ataa
Gaddisa hoggansaa tuuta sabbonotaa
Abokaatoo haqaa irree adda durootaa
Kallacha Oromoo saba seenaa hojjetaa.
Nagaafi misoomaa demookraasii waaraa
Mirkansu galmisaa imallisaa dheeraa
Hundeen isaa Oromummaa daandiin isaa sirrii
Paartii lammii boonaa dhaloota haraaf borii.
Sabni Oromoo guddaan kallattii hundaan cimee
Mirgaaf bilisummaan miidhagee faayamee
Arguudhaaf qabsoofna badhaadhee ijaramee
Jaalalaan hammannee saba biyyaa hundaa
Walqixxummaa obbolummaan
Gamtaan dhugoomsinaa hegeree bareedaa.
Kaayyoo eebbifamaa keenyaaf amanamnee
Jaallummaa qabsootiin yaadaa gochaan tokkoomnee
Saba keenya goota sabboonaa qabannee
Wanti hin moone hin jiruu tabbi nuti hin baanee.
Qabsaa'onni kufan imaanaa nuuf kennan
Dhiigaan kukkulanii faajjii nu dhaalchisan
Qabaannee qabsaa'aa hawwii ummata keenyaa
Harka wal qabannee hunda galmaan geenyaa
Harka wal qabannee ijaarra biyya keenyaa.
---
Sirna baniinsa Yaa'ii Dhaabbattummaa DhDUO 9ffaa har'a Jimmatti baname irratti bakka bu'oota dhaaba siyaasaa hedduutu dubbate. Hunda keessaa kan qalbii na tuqe haasaa MM Dr. Abiyyi Ahmedii fi kan Obbo Baqqalaa Garbaa ti. Lamaanuu karaa Oromoon ittiin injifannoo harkaan gahatu akeekan. Dr. Abiyyi guddina Oromoo yeroo ibsu Itoophiyaanuu itti dhiphatti jedhe. Garuu guddinni kun yoo tokkummaa mul'ataa mirkaneessine malee hakka hin dhugoomne hubachiise. Dhaabota siyaasaa Oromoo dantaa aangoof jecha qaama isaan hin fakkaanne waliin harka wal keessaa qaban akeekkachiise. Firoomni akka dhaabaatti qabnu dura akka Oromummaatti ragga'uu akka qabu hubachiise.

Dr. Abiyyi bolola aangoo akka hin qabne kan caalaatti mul'isu ammoo jecha isaa yeroo hundumaa irra deddeebi'u tokko. "Oromoodhaaf dhaaba kudha meeqa osoo hin taane dhaaba jajjabaa lama yookiin sadi qofatu gaha" kan jedhu. Kun dhugumatti Oromoon akka jaaramuu fi humni isaa akka hin qoqqoodamne hawwii qabaachuu paartii isaa agarsiisa. Osoo dhaabota hunda moohatanii aangoo irra jiraachuu barbaadu tahee dhaabonni Oromoo biroon bakka meeqaatamatti wal cicciruun isaan hin yaaddessu ture. Inumaa OPDO irraa kan hafe hundumtuu qoqqoodamoo fi lallaafoo yoo tahan filmaata irratti mohachuuf jara gargaara ture. Garuu aangoo caalaa dantaan Oromoo eegamuu akka qabu hawwiin dhugaan jiraachuu kana irraa hubanna.

Obbo Baqqalee Garbaa haasaa isaa keessatti dubbii mucaa wagaa 6 kan Oromoo tahee qofaaf ajjeefamee yeroo kaasu ijoo dubbii dheeraa jecha gabaabduudhaan lafa kaa'e. Diinni kan nurratti aggaammatu OROMOO taanee qofaaf akka tahee fi kanuma qofayyuu laallee garaagarummaa qabnu dhiphifnee tokkoomuu caalaa furmaanni biraa akka hin jirre akeeke. Kana malees Oromoon ofii dogoggorees haa tahuu qaama biraatiin gowwoomfamee akka saba kamuu irratti harka ol hin fudhanne kadhate. Karaan kufaatiitti nu geessu gaafa saba biraa irratti harka ol fudhanne tahuu isaa jala mure. Haasaan Obbo Baqqalee har'aa kun gabaabumatti bilchina siyaasaa nama kana keessa jiruu fi Oromiyaan ilmaan ishii bira dabranii biyyattiifuu boonsoo tahan mormitoota keessaas horachuu agarsiisa. Dhaaba siyaasaa adda addaa (DhDUO fi KFO) keessaa bahuu isaanii yoo tahe malee, ergaan Dr. Abiyyii fi Obbo Baqqaleen haasaa har'aa keessatti dabarsan homaa kan garaagarummaa qabu tahee natti hin mul'anne.