Posted by OromianEconomist in Uncategorized.
Tags: ODP, ofc, OLF, Oromia, Oromummaa, Tokkummaa Oromo, Unity of the Oppressed
add a comment
Ethiopia's ODP building alliances with opposition in Oromia, African News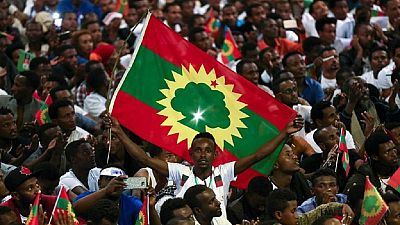 The ruling bloc in Ethiopia's Oromia region, the Oromo Democratic Party, ODP, continues building political alliances with competing parties ahead of elections slated for 2020.
ODP's spokesperson, Taye Dendea, confirmed this information to the Voice of America's Amharic service. He said the party was preparing to enter talks with over ten parties that shared a similar political agenda and plan of action.
Dendea added that further talks were being held with the Oromo Liberation Front, an ex-rebel group that returned from Eritreaafter a peace deal was signed between the two countries in July this year.
ODP led by Prime Minister Abiy Ahmed recently agreed a dealwith the Oromo Democratic Front, ODF, led by Lencho Leta. The merger was announced in late November after a meeting between Leta and Oromia region president Lemma Megerssa.
The 2020 elections will be the first vote after Abiy began his sweeping reforms aimed at opening the country's political and democratic space.
Abiy, an Oromo, has pledged to ensure that the vote is free, fair and credible and has stated publicly that he will handover power if the ruling Ethiopia Peoples Revolutionary Democratic Front, EPRDF, lost.
He has held talks with registered opposition groups and nominated a new elections chief to undertake reforms of the electoral body in the lead up to the polls. Birtukan Mideksa, a former judge and political dissident has been praised as being a right fit for the job.
The Ethiopia People Revolutionary Democratic Front comprises four main blocs:
The Tigray People's Liberation Front (TPLF).
The Oromo People's Democratic Organization (OPDO) now Oromo Democratic Party.
The Amhara National Democratic Movement (ANDM) now Amhara Democratic Party.
The Southern Ethiopian People's Democratic Movement, SEPDM.
More from Oromian Economist sources:l
Korri paartileen Oromoo 'haala qabatamaa naannichaafi cee'umsa gara dimokiraasii irratti' xiyyeeffate taasifame, BBC Afaan Oromoo
Waltajjii Marii jaarmiyaalee Siyaasaa Oromoo har'a Finfinneetti geggeeffamaa jira
=====
Waltajjiin marii Jarmiyaalee Siyaasaa Oromoo hundi irratti argaman kun mata duree marii "Ce'umsa gara Dimookiraasii fi haala qabatamaa Naannoo Oromiyaa" jedhurratti Finfinnee Galama Aadaa Oromootti geggeeffamaa jira.
Kaayyoon kanaas Jarmiyaaleen Siyaasaa Oromoo dhimma Waloo Ummata Oromoorratti dhimmoota waliin hojjechuu danda'anirratti wal hubannaa uumifi jedhameera.
Ka'umsa marii kanaatiif barreeffama qabsoo Ummata Oromoo eessaa garamitti, qormaatileefi sadarkaa qabsichi yeroo ammaa irra gaheefi kallattii qabsoo fuulduree Oromoo ilaalchisee qophaa'e Itti GaafatmaanSiyaasaafi Ijaarsa Baadiyyaa ODP obbo Addisuu Araggaatiin dhihaatee jira. Itti aansudhaanis Perofeesar Isqeel Gabbisaa bareefffan "eessaa kaanee eesssa turre, amma hoo eessa gahuuf deemaa jirra kan jedhu keessattti ummanni Oromoo yeroo ammaa kanatti gaaddisa tokko jalatti hiriiranii kan argamaniidha jedhaniiru. Kunummoo iccitiinsaa tokkummaa waan ta'eef jarmiyaaleen siyaasaa Oromoo maqaasaatiin ijaaramanis yeroon tokkummaan itti hojjetan amma jedhaniiru.
Yeroo ammaa Pirez. BMNO Dr. Kabajaa Lammaa magarsaa yeroo ammaa ce'umsaa dhufaa jiru waltaanee ceesisuun murteessadhaniiiru. Mariin itti fufeera bal'inasaa qabannee dhihaanna.
Guyyaan har'aa ganda TPLFitti guyyaa gaddaa tahuu argine. Mirqaanni isaanii guyyoota muraasa dabranii har'a bakka san hin jirtu. Sababni ifaa dha. Jaarmayaalee siyaasaa Oromootu waltajjii tokkorratti argamanii waan hegeree isaanii maryachaa jiran. Humnoota amma wal ajjeesu, amma wal diiganii qaawwa nuu banu jedhanii eegaa jirantu nagaaf dursa kennee maryachuu jalqabe. Kana caalaa kan boquu diinaa cabsu hin jiru. Humnoonni siyasaa Oromoos kana beekuu qabu. Waan diina gammachiisu irraa of qusatanii waan saba keenya mirqaansutti xiyyeeffachuu dha. Waamichi gabaa lagannaa fi dhaadannoon 'Lammaa fi Abiyyi diina keneya, nun bulchanu' jedhan Oromiyaa keessatti dhagahamuun fafa. Kun hawwii warra TPLF akka tahe beekuu feesisa. Oromoonis waamichoota mormii kan qaamonni tokko tokko dhiheessan hundumaa eeggannoodhaan laalee kan tahu fudhatee kan diina gammachiisu diduuf dammaqiinsa dabalachaa deemuutu irraa eegama.
https://www.facebook.com/permalink.php?story_fbid=770455773341464&id=100011311443078
alqabbii Gaarii, marii bu'a qabeessa
Har'a waltajjii marii dhaabbilee siyaasaatu ture. Waltajjiin kun ji'oota heddu dura waan eegalu qabu ta's amma jalqabuunuu waan guddaadha. Waltajjii kanarratti
– Injifannoo qabsoo wlaootiin argame waliin tiikfachuun barbaachisaa akka ta'e
– Jeeqamuun nageenya Oromiyaa nu hundaaf balaa hamaa akka qabu
– Mootummaa kana tumsuun cehuumsa kana bakkaan gahuuf murteessaa akka ta'e, hoggansi mootummaas dhaabbilee siyaasaafi qaamota biroo ofitti qabee gargaarsifachuun murteessaa ta'uu isaa.
– Dhaabbileen siyaasaa waliin mari'achuufi waliin dalaguun rakkoo nageenyaa furuufi tokkumma saba kanaa cimsuuf murteessaa ta'uu isaa.
– Mariin bifa kana akka itti fufuuf foramiin paartilee akka jaaramus waliif galameera.
Prez Lammaa Magarsaa kaka'uumsa kanaan as bahuu isaafii hogganoonni dhaabbilee hundaa hirmaannaa isaaniif ni galateeffanna. Hojiin kun cimee itti fufuu qaba.
Posted by OromianEconomist in #OromoProtests.
Tags: #OromoProtests, #OromoRevolution, Africa, Against Tyranny, Ethiopia, Ethiopia's Colonizing Structure and the Development Problems of People of Oromia, Ethnic cleansing Against Oromo People, Genocide, Genocide against Ogaden People, Genocide Against Oromo People, Indigenous People, Ogaden, Oromia, Oromo, Oromo - Somali Solidarity, The colonization of Oromia and the violence against Oromo people, Unity of the Oppressed
add a comment
---
Oromo-Somali Solidarity Forum Press Release
Date: 16th of March, 2017    Ref: OSSF/01/17
---
For immediate release
---
Since November 2016, i.e., for the last five months, the murderous Liyu Police forces, commanded by the President of the Somali Regional State, have been undertaking border raids and attacks against civilians in the Oromia region, in the process killing and displacing many people. The attack is launched on five Oromia zones and 14 districts bordering the Somali region. At least 200 civilians have been killed and many others injured in the attacks according to reports. These senseless attacks were ordered by the TPLF as part of its strategy to weaken the popular uprising underway in Oromia against the minority ruling clique. TPLF has been trying to portray the conflict it maneuvered between the brotherly Somali and Oromo peoples as a dispute between the two regions over the ownership of border towns and localities, a dispute that has been settled through public referenda in 2005/6. The two neighboring ethnic groups have co-existed peacefully for centuries and have a culture of resolving disputes through established traditional conflict resolution mechanisms. Without the sinister hands of the TPLF, this conflict would not have even started. TPLF is hiding in plain sight and should understand that such mischief will not absolve it from the crimes it continues to commit against both the Oromo and Somali people.
The atrocities committed by the Liyu Police did not start with defenseless Oromos. These merchants of death and destruction have been terrorizing their own Somali people for the last ten years at the behest of their TPLF masters. They have committed numerous grave human right violations inside the Somali region and even as far beyond as Somalia with gruesome executions, rape, and burning of villages being their distinctive trademarks.
We at the Oromo-Somali Solidarity Forum hereby condemn this TPLF-engineered reckless conflict which led to the bloodshed of our brotherly peoples. We urge the brotherly Somali and Oromo peoples to stand in solidarity and deny the TPLF the pleasure of achieving the division and animosity it aspires to sow between our people. The ongoing conflict is not a war between Oromos and Somalis. It is a proxy war orchestrated by the TPLF against Oromos through the Liyu Police which is an auxiliary instrument of repression by the desperate minority regime. United, we will overcome TPLF's 26 years of oppression and mayhem.
Victory to the oppressed Oromo and Somali people!
With profound regards!
Oromo-Somali Solidarity Forum
Addressed to: All Ethiopians, Oromos, Somalis and the international press
Representative signatories:
 Geresu Tufa
 Mohamed Hassan
 Najat Hamza
 Nagessa Oddo Dube
 Jemal-Dirie Kalif
 Jawar Mohammed
 Abdullahi Hussein
 Dahabe M. Abdella
 Tibebu Sime
 Hadi Luqman
 Girma Gutema
 Solomon Ungashe
 Tsegaye Ararsa
 Gadissa Abrahim
 Eda'o Dawano
 Latu Bushan
 Aman Maldewo
 Endiris Negewo