Posted by OromianEconomist in Uncategorized.
Tags: ODP, ofc, OLF, Oromia, Oromummaa, Tokkummaa Oromo, Unity of the Oppressed
add a comment
Ethiopia's ODP building alliances with opposition in Oromia, African News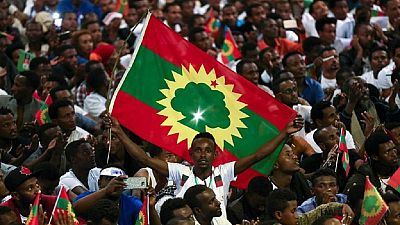 The ruling bloc in Ethiopia's Oromia region, the Oromo Democratic Party, ODP, continues building political alliances with competing parties ahead of elections slated for 2020.
ODP's spokesperson, Taye Dendea, confirmed this information to the Voice of America's Amharic service. He said the party was preparing to enter talks with over ten parties that shared a similar political agenda and plan of action.
Dendea added that further talks were being held with the Oromo Liberation Front, an ex-rebel group that returned from Eritreaafter a peace deal was signed between the two countries in July this year.
ODP led by Prime Minister Abiy Ahmed recently agreed a dealwith the Oromo Democratic Front, ODF, led by Lencho Leta. The merger was announced in late November after a meeting between Leta and Oromia region president Lemma Megerssa.
The 2020 elections will be the first vote after Abiy began his sweeping reforms aimed at opening the country's political and democratic space.
Abiy, an Oromo, has pledged to ensure that the vote is free, fair and credible and has stated publicly that he will handover power if the ruling Ethiopia Peoples Revolutionary Democratic Front, EPRDF, lost.
He has held talks with registered opposition groups and nominated a new elections chief to undertake reforms of the electoral body in the lead up to the polls. Birtukan Mideksa, a former judge and political dissident has been praised as being a right fit for the job.
The Ethiopia People Revolutionary Democratic Front comprises four main blocs:
The Tigray People's Liberation Front (TPLF).
The Oromo People's Democratic Organization (OPDO) now Oromo Democratic Party.
The Amhara National Democratic Movement (ANDM) now Amhara Democratic Party.
The Southern Ethiopian People's Democratic Movement, SEPDM.
More from Oromian Economist sources:l
Korri paartileen Oromoo 'haala qabatamaa naannichaafi cee'umsa gara dimokiraasii irratti' xiyyeeffate taasifame, BBC Afaan Oromoo
Waltajjii Marii jaarmiyaalee Siyaasaa Oromoo har'a Finfinneetti geggeeffamaa jira
=====
Waltajjiin marii Jarmiyaalee Siyaasaa Oromoo hundi irratti argaman kun mata duree marii "Ce'umsa gara Dimookiraasii fi haala qabatamaa Naannoo Oromiyaa" jedhurratti Finfinnee Galama Aadaa Oromootti geggeeffamaa jira.
Kaayyoon kanaas Jarmiyaaleen Siyaasaa Oromoo dhimma Waloo Ummata Oromoorratti dhimmoota waliin hojjechuu danda'anirratti wal hubannaa uumifi jedhameera.
Ka'umsa marii kanaatiif barreeffama qabsoo Ummata Oromoo eessaa garamitti, qormaatileefi sadarkaa qabsichi yeroo ammaa irra gaheefi kallattii qabsoo fuulduree Oromoo ilaalchisee qophaa'e Itti GaafatmaanSiyaasaafi Ijaarsa Baadiyyaa ODP obbo Addisuu Araggaatiin dhihaatee jira. Itti aansudhaanis Perofeesar Isqeel Gabbisaa bareefffan "eessaa kaanee eesssa turre, amma hoo eessa gahuuf deemaa jirra kan jedhu keessattti ummanni Oromoo yeroo ammaa kanatti gaaddisa tokko jalatti hiriiranii kan argamaniidha jedhaniiru. Kunummoo iccitiinsaa tokkummaa waan ta'eef jarmiyaaleen siyaasaa Oromoo maqaasaatiin ijaaramanis yeroon tokkummaan itti hojjetan amma jedhaniiru.
Yeroo ammaa Pirez. BMNO Dr. Kabajaa Lammaa magarsaa yeroo ammaa ce'umsaa dhufaa jiru waltaanee ceesisuun murteessadhaniiiru. Mariin itti fufeera bal'inasaa qabannee dhihaanna.
Guyyaan har'aa ganda TPLFitti guyyaa gaddaa tahuu argine. Mirqaanni isaanii guyyoota muraasa dabranii har'a bakka san hin jirtu. Sababni ifaa dha. Jaarmayaalee siyaasaa Oromootu waltajjii tokkorratti argamanii waan hegeree isaanii maryachaa jiran. Humnoota amma wal ajjeesu, amma wal diiganii qaawwa nuu banu jedhanii eegaa jirantu nagaaf dursa kennee maryachuu jalqabe. Kana caalaa kan boquu diinaa cabsu hin jiru. Humnoonni siyasaa Oromoos kana beekuu qabu. Waan diina gammachiisu irraa of qusatanii waan saba keenya mirqaansutti xiyyeeffachuu dha. Waamichi gabaa lagannaa fi dhaadannoon 'Lammaa fi Abiyyi diina keneya, nun bulchanu' jedhan Oromiyaa keessatti dhagahamuun fafa. Kun hawwii warra TPLF akka tahe beekuu feesisa. Oromoonis waamichoota mormii kan qaamonni tokko tokko dhiheessan hundumaa eeggannoodhaan laalee kan tahu fudhatee kan diina gammachiisu diduuf dammaqiinsa dabalachaa deemuutu irraa eegama.
https://www.facebook.com/permalink.php?story_fbid=770455773341464&id=100011311443078
alqabbii Gaarii, marii bu'a qabeessa
Har'a waltajjii marii dhaabbilee siyaasaatu ture. Waltajjiin kun ji'oota heddu dura waan eegalu qabu ta's amma jalqabuunuu waan guddaadha. Waltajjii kanarratti
– Injifannoo qabsoo wlaootiin argame waliin tiikfachuun barbaachisaa akka ta'e
– Jeeqamuun nageenya Oromiyaa nu hundaaf balaa hamaa akka qabu
– Mootummaa kana tumsuun cehuumsa kana bakkaan gahuuf murteessaa akka ta'e, hoggansi mootummaas dhaabbilee siyaasaafi qaamota biroo ofitti qabee gargaarsifachuun murteessaa ta'uu isaa.
– Dhaabbileen siyaasaa waliin mari'achuufi waliin dalaguun rakkoo nageenyaa furuufi tokkumma saba kanaa cimsuuf murteessaa ta'uu isaa.
– Mariin bifa kana akka itti fufuuf foramiin paartilee akka jaaramus waliif galameera.
Prez Lammaa Magarsaa kaka'uumsa kanaan as bahuu isaafii hogganoonni dhaabbilee hundaa hirmaannaa isaaniif ni galateeffanna. Hojiin kun cimee itti fufuu qaba.
Posted by OromianEconomist in Uncategorized.
Tags: ABO, Koongirasii Feederalawaa Oromoo (KFO), ofc, OLF, Oromia, Oromummaa
1 comment so far
Ibsa Koongirasii Feederaalawaa Oromoo (KFO) fi Adda Bilisummaa Oromoo (ABO) irraa kenname
---
---
Addi Bilissummaa Oromoo (ABO)n qabsoo hidhannoo fi siyaasaa geggessaa turee qabsoo karaa nagaa geggeessuuf mootummaa Ityoophiyaa waliin waliigaltee uumeen booda Kongirasa Federaalawaa Oromoo duraanu qabsoo karaa nagaa gaggeessaa ture waliin egeree
siyaasaa ummata Oromoo irratti marii jalqabaa geggeessee jira.
Marii kana keessattis Sirna ijaarsa dimookiraasii, federaalizimii dhugaa fi olaantumaa seeraa kabachiisuu keessatti dhaabileen lamaan karaa itti dantaa ummata Oromoo fi Oromiyaa dursuu fi kabajchiisuu irratti yaada
wal jijjiiruun hubannoota irra gahameera.
Uummanni keenya yaroo adda addaa wal-taanee akka itti dhiyaanu nu gaafachaa jiru hubtuun bu'uuruma kanaan Addi Bilissummaa Oromoo (ABO) fi Kongirasiin Federaalawaa Oromoo (KFO)n marii gaafa 24/12/2010 gaggeesinneen akkaataa garaagarummaa jiru dhiphisuun waliin hojjatuun danda'amu irratti wal hubachuun waamicha armaan gadii waloon dabarsina.
1. Koongireesii Feederaalawaa Oromoo (KFO) fi Adda Bilisummaa Oromoo (ABO)n biyya kana keessatti federaalizimiin dhugaa akka dhufu, mirgi hiree murteeffannaa ummatootaa fi olaantummaan seeraa
kabajamee nageenyii amansiisaa itti fufiinsaan akka lafa qabatuuf qabsoo uummatni keenya taasisu keessatti sagaleen uummatta keenyaa akka addaan hin hiramneef karaa danda'ame hunda hojjatana.
2. Uummanni keenyas wal hubannoo irra gahame kana beekuun qabsoo nuyi waliin gaggeessaa jirru kana nuuf beekuun akuuma kana duraa nu cina dhaabbachuun qabsoo bilisummaa milkeessuu keessatti qooda keessan akka gumaachitan waamicha seena qabeessa kana dabarsina.
3. Jaarmootni siyaasaa, Beektootni, Dargaggotni abbaa qabsoo Barratootni,Hojjatootni, Daldaaltotni, Abboottiin Gadaa fi Abboottiin Amantaa Oromoo kana beekuun itita aangoo siyaasaa uummata Oromoo amma argamee kana gara fuulduraatti tarkaanfachiisuuf qabsoo KFO fi ABOn taasisan kana akka cimsitan, utubdanii fi deegartaniif waamicha keenya isinii dabarsina.
4. Dhumarratti uummatootni Itiyoophiyaa qabsoo
uummanni Oromoo kabajamuu mirga dimokraasii, mirga hiree murteeffatanaa, olaanttumaa seeraa, guddina federaalizimii dhugaa fi nageenya waaraa dhugoomsuuf warraaqu kana keessatti akka nucinaa dhaabbattan kabajaan waammicha isinii goona.
Injifannoon uummata dhugaan qabsaa'uuf haata'u !!!
Fulbaana 5, bara 2018
Finfinnee
KFO fi ABO irraa
---
---
Posted by OromianEconomist in Uncategorized.
Tags: Africa, Ethiopia, Genocidal mass killings against Oromo people in Eastern Oromia conducted by Liyu Police of TPLF Ethiopia, Genocide against Ogaden People, Genocide Against Oromo People, Human rights violations, mass arrests and genocide against Oromo people, Ogaden, OLF, ONLF, Oromia Support Group
add a comment
ONLF and OLF Holds the Ethiopian government and its ruling Coalition Parties as solely responsible for the mass killings of Oromo and Somali peoples
Joint Statement by Oromo Liberation Front (OLF) and Ogaden National Liberation Front (ONLF)
December 21, 2017
The Ethiopian government has been systematically instigating conflict between and within nations in Ethiopia to divert the attention of the stakeholders from its failing rule for the last two years. Although, the Ethiopian government has continually employed divide-and-rule tactics across the country by systematically instigating and promoting civil war among the nations; such war is specifically orchestrated between the Ogaden Somali and the Oromo nations, under the stage management of both Federal government security apparatus, and agents of both regional states.
Such Machiavellian policies of the ruling regime and its regional collaborators has costed both communities, countless lives, and it is affecting not only Oromo people and Somali people in Ethiopia, but also spreading across borders in the Horn of Africa, from Djibouti to Somalia and Kenya. Today, the situation is rapidly deteriorating as hundreds of civilians are massacred. Left unaddressed, the conflict will undoubtedly lead the two fraternal communities to a horrific civil war. Furthermore, if the
Ethiopian regime is left to succeed, such a war inevitably will cost millions of lives with dire consequences for both communities and the communities of wider Horn of Africa.
Cognizant of the fact that, the unfolding tragedies are meticulously masterminded and implemented under the leadership of the regime with the objective of staying in power, employing divide and rule methods as means of governance; the ONLF and OLF holds the Ethiopian regime and the ruling EPRDF party as solely responsible for the crimes committed against both peoples and the wider peoples of Ethiopia. Therefore, we urge the regime to unconditionally and immediately stop such criminal practices.
Furthermore, both fronts request the AU, EU the UN and the international community to urgently start an independent international investigation into the unfolding tragic and continuous massacres of civilians in both sides; that is to date worsening in the entire Somali-Oromia borders including, the other parts of Ethiopia; to be able to bring those responsible for such abhorring crimes to an international tribunal.
The OLF and ONLF call upon the Somali and Oromo people, to stop being used as agents of EPRDF regime to aide it to commit crimes against each other. ONLF and OLF further call upon the traditional elders, civil society, religious leaders, political organisations and intellectuals of both communities to come together and fight this menace against the wellbeing of both nations. ONLF and OLF also call upon all organisations, civil societies and communities in Ethiopia to condemn the current barbarous acts and desist from talking part in it.
OLF and ONLF also call upon media sources to both locally and internationally to expose this heinous crime and avoid fanning the conflict further and report responsibly.
The Oromo, Somalis and the other nations of the Horn of Africa will always remain neighbours; hence those who want to destroy the centuries old fraternal relationships between all communities in the Horn of Africa and Ethiopia are doomed to fail.
Finally, instigating ghastly killings and decapitation of the Civilians in Ogaden Somali and Oromia will never compromise our fraternity and never deviate us from our struggle for Freedom and Self-Determination.
Peace shall prevail!
Issued by The OLF and ONLF on December 21, 2017
---
Related:-
Ethiopian government's attempt to blame the victims (the Oromo people) unravels TPLF's war plans on Oromo people
---
It has now been more than a year since the Ethiopian government, controlled by the Tigrai People Liberation Front (TPLF), clearly and openly declared a war on Oromo people. In addition, the TPLF government has also promoted conflict between the Oromo people and its neighbors, which have lived together in peace, love and mutual respect for decades.
This TPLF orchestrated conflicts has caused a huge crisis on the life, property and overall wellbeing of hundreds-of-thousandth of Oromo people. In fact, the Ethiopian military generals and leaders have planned, trained and deployed the Somali special forces (aka Liyu Police) to carry-out the killings of the Oromo people and destruction of their homes. As a result of this war, hundredthof-thousandth of Oromos were either killed, wounded, their homes and properties were completely destroyed or displaced. While these all heinous acts have been taking place on Oromo farmers, the TPLF government has never had any saying.
The war currently declared on the Oromo people by TPLF and the Somali regional government is a well-researched and planned war for a long time. To make sure that their plans are being executed, first, they disarmed the Oromo farmers and made them defenseless. After they disarmed the Oromo farmers, TPLF ordered their well-trained and armed Liyu police to carry-out the killings, including kids and women, destroying their homes and confiscating their properties.
As one might recall that Oromo Liberation Front (OLF) has exposed the secret plan of TPLF to open war on Oromos from Eastern to all the way to the Southern Oromia border, which covers a
distance of over 1000km. Not only OLF exposed TPLF's plan, it has also warned those who were playing political games to stop their evil act before it resulted in such a tremendous crisis. We have also pre-informed the secret plan of TPLF to the world community as well as to the Ethiopian people.
The main purpose of TPLF's current war is to weaken the Oromo, stop the Oromo Youth-led movement for freedom and overall the Oromo people's struggle for Freedom and justice. In addition, this is a strategy to divert the real demand of the people and maintain their power and continue their exploitation. Therefore, TPLF and their agents are the main actors of these conflicts. Nonetheless, TPLF's strategy of promoting conflict between the regions will neither bring a shortterm nor a long-term peace to the country as well as to the region.
While conflicts were taking place in the Eastern, South Eastern and Southern Oromia for over a year, the Ethiopian government has never taken any action to resolve the issue. Contrary to this, TPLF government has trained, armed and deployed the Somali region special forces to perpetrate havoc on the Oromo farmers along the border. Though the Oromo People living along the border have requested the government to secure their peace and defend them against the perpetrators, the Ethiopian government instead continues to support Liyu police with military equipment as well as logistics. As a result, over 700,000 Oromos were displaced from their lands and their homes were burned down. The Ethiopian government did not offer any support to these displaced people.
Perhaps, the burden was left to the Oromo people themselves. Similarly, when many Oromo were massacred at Calanqo, Daaroo Labuu at a place called Hawwii Guddinaa and in many more places, we haven't heard any press release or any condemnation of the perpetrators from the Ethiopian government, further confirming that the life of the Oromo people worth nothing for the Ethiopian government.
Contrary to these war crimes taking place on Oromo people, we have observed when the Ethiopian prime minister, Hailemariya Dessalegn in his December 17, 2017 press statement, trying to make the Oromo people accountable for the crimes that their military force and Liyu police have done. The Prime minister's attempt to blame the victims here instead of the killer, Liyu police and military forces, is rather disgraceful. The prime minister would have asked himself, before reading his shameful statement, questions such as who started this war? Where was the war started and why? and try to get the answers.
As head of a state, the prime minister should have rather admitted the crisis and assure the people that the perpetrators will be brought to justice. At the same time, he should have also assured the Oromo people that his government will maintain their peace. But the prime minister's statement was completely the opposite, trying hard to make the Oromo people accountable for the heinous crime done by the Liyu Police. Such Ethiopian government's betrayal of the Oromo people has been observed on multiple occasions and thus, we should expect neither any justice nor any support from the Ethiopian government.
Therefore; The Oromo people must understand that it is their right to defend themselves from the war currently declared on them from multiple fronts by TPLF government and its agents. While admiring the generous support that the Oromo mass was giving to its fellow citizens, OLF wants to stress that there is no one for Oromo other than Oromo and nothing is more evident for this than what is currently happening in Oromia. Therefore, such support for our people must be strengthened and continue.
OLF also call upon all Oromo in diaspora to feel the pains and the crisis that the Oromo people are going through in Oromia and work hard to expose the evil acts of TPLF to the international community, and also continue to support our people. It is equally important to make sure that the support that you contribute is in fact reaches the people in need.
The Oromo people and the Somali people have lived together for so long without any issues. However, now the Liyu police and the TPLFgovernment are orchestrating a conflict between these people. We want to renew our call to our brotherly Somali people to let work together to thwart the TPLF's evil plan.
Lastly, trying to blame the Oromo people, victims of the Liyu police, instead of the perpetrators will never solve the problems. Furthermore, the heinous killings and displacement taking place on Oromo people will not stop by simply blaming on the so-called corruption and illegal trading (contraband) that is taking place in the country. These excuses will never let the Ethiopian government be free from accountability. OLF strongly condemns those who are involved in planning, organizing, and commanding the military and Liyu police forces to open war on Oromo people, those who involved in the killings and displacement of peaceful Oromo and the Somali people. 
In addition, the international community should know that ethnic cleaning is taking place in Oromia by the Ethiopian government and its surrogate Somali National government. Keeping silent, in another term, is giving a license for the Ethiopian government to continue killing and displacement of the Oromo people. Thus, OLF call upon the international community to immediately take appropriate action to stop the ethnic cleaning, establish independent enquiry to the killings and attacks that is taking place right now in Oromia-Ethiopia before it is too late.
Victory to the Oromo People
Oromo Liberation Front
December , 2017
---
By Yunus Abdellah Ali, ayyantuu.net
November 9 is the day we remember Oromo student martyrs for just cause of the Oromo people. In 2005 OLF made a call for revolt against the dictatorial government of Ethiopia and on 9th November 2005, the Oromo students began the revolt in response to the call. Since that day the struggle continued to this date.
In April 2011 Qerroo stretched the struggle for freedom of the Oromo people into every part of Oromia. The struggle which is ongoing with full support of youth and students of Oromia embraces the causes of the people of Oromia.
The well coordinated revolt of last year against the dictator Wayyane government on the issue of land ownership is still continuing in a more aggressive way. In this ongoing struggle many precious lives have been sacrified. Those fallen heroes let their blood to flow like a flood, but left their bones to be broken into pieces just for the freedom of the Oromo people. So every year the history of Oromo people will remember it.
November 9, is the memorial day of the struggle against subjugation and it will be held in different parts of Oromia and all over the world by Oromo communities and the friends of Oromos. On this special day, the Oromo youth who sacrified their life for their goal, their heroic hard word for freedom, and their painful journey they had been through will be remembered and honored. By doing so we show our respect and love that we have for our heroes and it is also our responsibility as a citizen of Oromia.
On this day we also remember the Oromo political prisoners who are in torture and we also make a way of struggle that can bring the freedom of our political prisoners and how we can apply it in to practice.
If Oromos united and revolt with one voice, we can over throw the dictator wayyane government from its root with in just one night. And then we can have our free independent state of Oromia. All we need is a focused struggle with unity and aggressive revolt with any weapon we have. The last year revolt is our positive sign to understand how impactfull our united struggle was.
So that by using our experiences and our achievements of revolt against subjugation and the struggle of Oromo liberation , we can launch stronger and more intensive struggle that will remove the dictator TPLF government painfully from our land Oromia.
On this day ,the Oromo youths, the freedom fighters, the heroes and other Oromos who have been sacrified on the struggle of Oromo people will be remembered!
We will fulfil the dream of our heroes which they sacrified for!
November 9 every year, we will remember the day of Revolt Against Subjugation of Oromo Students.
Victory For Oromo People!!!
Yunus Abdellah Ali