Posted by OromianEconomist in Uncategorized.
Tags: ODP, ofc, OLF, Oromia, Oromummaa, Tokkummaa Oromo, Unity of the Oppressed
add a comment
Ethiopia's ODP building alliances with opposition in Oromia, African News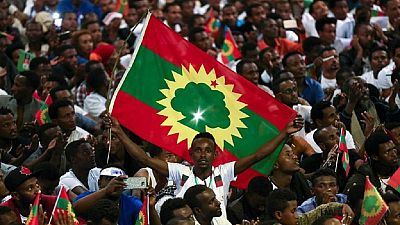 The ruling bloc in Ethiopia's Oromia region, the Oromo Democratic Party, ODP, continues building political alliances with competing parties ahead of elections slated for 2020.
ODP's spokesperson, Taye Dendea, confirmed this information to the Voice of America's Amharic service. He said the party was preparing to enter talks with over ten parties that shared a similar political agenda and plan of action.
Dendea added that further talks were being held with the Oromo Liberation Front, an ex-rebel group that returned from Eritreaafter a peace deal was signed between the two countries in July this year.
ODP led by Prime Minister Abiy Ahmed recently agreed a dealwith the Oromo Democratic Front, ODF, led by Lencho Leta. The merger was announced in late November after a meeting between Leta and Oromia region president Lemma Megerssa.
The 2020 elections will be the first vote after Abiy began his sweeping reforms aimed at opening the country's political and democratic space.
Abiy, an Oromo, has pledged to ensure that the vote is free, fair and credible and has stated publicly that he will handover power if the ruling Ethiopia Peoples Revolutionary Democratic Front, EPRDF, lost.
He has held talks with registered opposition groups and nominated a new elections chief to undertake reforms of the electoral body in the lead up to the polls. Birtukan Mideksa, a former judge and political dissident has been praised as being a right fit for the job.
The Ethiopia People Revolutionary Democratic Front comprises four main blocs:
The Tigray People's Liberation Front (TPLF).
The Oromo People's Democratic Organization (OPDO) now Oromo Democratic Party.
The Amhara National Democratic Movement (ANDM) now Amhara Democratic Party.
The Southern Ethiopian People's Democratic Movement, SEPDM.
More from Oromian Economist sources:l
Korri paartileen Oromoo 'haala qabatamaa naannichaafi cee'umsa gara dimokiraasii irratti' xiyyeeffate taasifame, BBC Afaan Oromoo
Waltajjii Marii jaarmiyaalee Siyaasaa Oromoo har'a Finfinneetti geggeeffamaa jira
=====
Waltajjiin marii Jarmiyaalee Siyaasaa Oromoo hundi irratti argaman kun mata duree marii "Ce'umsa gara Dimookiraasii fi haala qabatamaa Naannoo Oromiyaa" jedhurratti Finfinnee Galama Aadaa Oromootti geggeeffamaa jira.
Kaayyoon kanaas Jarmiyaaleen Siyaasaa Oromoo dhimma Waloo Ummata Oromoorratti dhimmoota waliin hojjechuu danda'anirratti wal hubannaa uumifi jedhameera.
Ka'umsa marii kanaatiif barreeffama qabsoo Ummata Oromoo eessaa garamitti, qormaatileefi sadarkaa qabsichi yeroo ammaa irra gaheefi kallattii qabsoo fuulduree Oromoo ilaalchisee qophaa'e Itti GaafatmaanSiyaasaafi Ijaarsa Baadiyyaa ODP obbo Addisuu Araggaatiin dhihaatee jira. Itti aansudhaanis Perofeesar Isqeel Gabbisaa bareefffan "eessaa kaanee eesssa turre, amma hoo eessa gahuuf deemaa jirra kan jedhu keessattti ummanni Oromoo yeroo ammaa kanatti gaaddisa tokko jalatti hiriiranii kan argamaniidha jedhaniiru. Kunummoo iccitiinsaa tokkummaa waan ta'eef jarmiyaaleen siyaasaa Oromoo maqaasaatiin ijaaramanis yeroon tokkummaan itti hojjetan amma jedhaniiru.
Yeroo ammaa Pirez. BMNO Dr. Kabajaa Lammaa magarsaa yeroo ammaa ce'umsaa dhufaa jiru waltaanee ceesisuun murteessadhaniiiru. Mariin itti fufeera bal'inasaa qabannee dhihaanna.
Guyyaan har'aa ganda TPLFitti guyyaa gaddaa tahuu argine. Mirqaanni isaanii guyyoota muraasa dabranii har'a bakka san hin jirtu. Sababni ifaa dha. Jaarmayaalee siyaasaa Oromootu waltajjii tokkorratti argamanii waan hegeree isaanii maryachaa jiran. Humnoota amma wal ajjeesu, amma wal diiganii qaawwa nuu banu jedhanii eegaa jirantu nagaaf dursa kennee maryachuu jalqabe. Kana caalaa kan boquu diinaa cabsu hin jiru. Humnoonni siyasaa Oromoos kana beekuu qabu. Waan diina gammachiisu irraa of qusatanii waan saba keenya mirqaansutti xiyyeeffachuu dha. Waamichi gabaa lagannaa fi dhaadannoon 'Lammaa fi Abiyyi diina keneya, nun bulchanu' jedhan Oromiyaa keessatti dhagahamuun fafa. Kun hawwii warra TPLF akka tahe beekuu feesisa. Oromoonis waamichoota mormii kan qaamonni tokko tokko dhiheessan hundumaa eeggannoodhaan laalee kan tahu fudhatee kan diina gammachiisu diduuf dammaqiinsa dabalachaa deemuutu irraa eegama.
https://www.facebook.com/permalink.php?story_fbid=770455773341464&id=100011311443078
alqabbii Gaarii, marii bu'a qabeessa
Har'a waltajjii marii dhaabbilee siyaasaatu ture. Waltajjiin kun ji'oota heddu dura waan eegalu qabu ta's amma jalqabuunuu waan guddaadha. Waltajjii kanarratti
– Injifannoo qabsoo wlaootiin argame waliin tiikfachuun barbaachisaa akka ta'e
– Jeeqamuun nageenya Oromiyaa nu hundaaf balaa hamaa akka qabu
– Mootummaa kana tumsuun cehuumsa kana bakkaan gahuuf murteessaa akka ta'e, hoggansi mootummaas dhaabbilee siyaasaafi qaamota biroo ofitti qabee gargaarsifachuun murteessaa ta'uu isaa.
– Dhaabbileen siyaasaa waliin mari'achuufi waliin dalaguun rakkoo nageenyaa furuufi tokkumma saba kanaa cimsuuf murteessaa ta'uu isaa.
– Mariin bifa kana akka itti fufuuf foramiin paartilee akka jaaramus waliif galameera.
Prez Lammaa Magarsaa kaka'uumsa kanaan as bahuu isaafii hogganoonni dhaabbilee hundaa hirmaannaa isaaniif ni galateeffanna. Hojiin kun cimee itti fufuu qaba.
Posted by OromianEconomist in Uncategorized.
Tags: Abbaa Gadaa Professor Asmarom Legesse, Africa, Aster Gannoo, Eritrea, Gadaa, Gadaa System, Gadaa: Ancient Africa (Oromo) democratic system is a form of direct democracy, Geza Kenisha, Harvard, Onesimos Nesib, Oromia, Oromo, Oromo culture, Oromo democracy, Oromummaa, UNESCO world Heritage
7 comments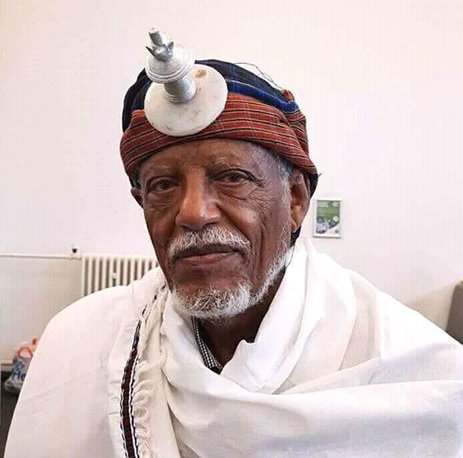 (EP) The much loved Eritrean professor, the pioneer of Gadaa studies, will visit Ethiopia next week.
Born in Geza Kenisha in Asmara, the same area where Onesimos Nesib (former name Hika) sought refuge and translated the Holy Bible into Afan Oromo more than a century ago, the anthropologist Asmerom, (Ph.D. Harvard Emeritus Professor) is well known for the relentless efforts he has done to introduce Gadaa system to the world.
Two years ago, Professor Asmerom saw the fruits of his 50 years hard work when the UNESCO adopted Gadaa, the five-century-old constitution of the Oromo of Ethiopia, as one of the world intangible heritages.
The respected professor wrote one of the most quintessential books on the Gadaa system. Read: OROMO DEMOCRACY: An Indigenous African Political System.
WHAT IS GADAA?
Gadaa is a political, economic and social system which the Oromo people have been following in governing themselves. Although the Gadaa system is no longer widely practised, it remains influential in Oromo society at large.
Amazingly, the Gadaa system is a democratic system of governance in which the community as a whole has the opportunities to participate on an equal basis.
Under the Gadaa system, the Oromo people are organized or structured into five grades or strata and assume power in rounds which last for eight years each.
Among the Borana, Gada is graded into Mogiissa, Sabaka, Darara, Fullasa, and Makula.
On the other hand, among the Karayu Oromo, the strata are referred to as: Robale , Melba, Birmaji, Michille, and Halchisa.
Among the Macha and Tulama, these strata are known as: Horata, Michille, Dulo, Robale and Birmaji.
Posted by OromianEconomist in Uncategorized.
Tags: African culture, Ancient Africa, Fayo Mootii, Kemetic Africa, Oromia, Oromo culture, Oromo music, Oromo music and Oromo identity
2 comments